What do most racers immediately think of when they see a Bridgeport in the corner? Adapting an engine and transmission that were never supposed to bolt together.
Building adapter plates is one of those "gotcha" tasks that every enthusiast dreams of being able to do, and we ended up using this project to learn our new mill's abilities. Shoutout to Steve Eckerich for lending us some of his time to show us the ropes.
So what's the project? A 1962 Elva Mk VI sports racer, a project for our sister title, Classic Motorsports. It was missing the necessary pieces to bolt its Hewland transaxle to its FWA race engine. Yeah, not exactly stuff we could order from Summit Racing.
Fortunately, we had a mill–and parts borrowed from another racer that we could copy. We'd need to make an aluminum backing plate for the rear of the engine as well as a thick aluminum bellhousing adapter to connect it to the transaxle. How hard could it be?
If you have a Bridgeport, well, it's not that hard. Copying the adapter plate was easy. We just clamped the old part to a piece of aluminum, center-punched the bolt holes to transfer them over, and then used our Bridgeport to drill each hole. Then we bored out the critical flywheel and starter openings with a boring head.
Next, it was time to build that bellhousing adapter. We clamped our new adapter plate to the table, then used our DRO and an indicator to sweep every opening and record the coordinates of each hole. We did the same trick with the bellhousing adapter we were copying, then input every coordinate into CAD to create a digital model of it.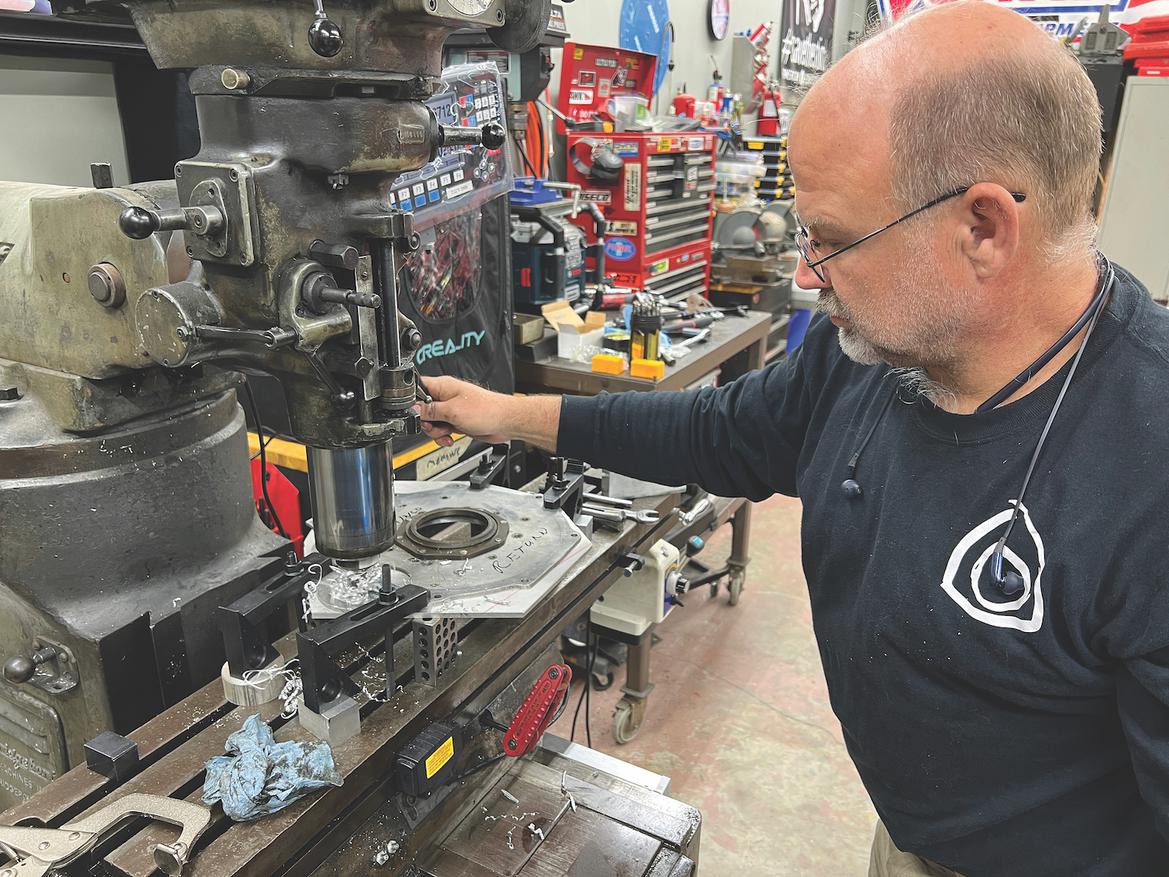 Can we use our mill to make parts, like this transmission adapter? Yes, it really works. We're now machining our own components right from aluminum stock.
After roughing it out on the CNC router, we used the Bridgeport for some minor cleanup. And yes, we could have completed every operation on the mill if we hadn't had a CNC router at our disposal.
It was time for the moment of truth: Had we wasted $400 of aluminum, or had we really made our own adapter plate at home? Every fear we had disappeared when the engine and transmission bolted together like they'd been designed to from the factory. Our first project was a success, and we can't wait to see what we build next.