I started this build about a year and half ago and have been slowly tracking progress over time so I figured I'd post info now that its' almost ready to go, and document the remaining work over time as I modify things and buy new presents for myself.
I bought this project car after having abandoned a lotus replica build that I just couldn't get going. I had previously owned and tracked an E30, which I loved, and since I've always wanted a convertible track car, the M-Roadster seemed like a great option. It's a similar chassis with a bigger engine. The only other option I had been looking for was the S2000. For financial reasons, I decided I would just get something that needed work and was cheap – auctions became a regular web search for me once I knew the 2 cars I would target. I finally found my car of choice – the car had a front end encounter with something but it was mainly cosmetic damage. Cost was minimal through an auction since my main competition was buyers looking for the S52 engine to resell – I was able to pick it up for under 3K, it was a bargain in my book given that I had sold my lotus project for 2k and had a car fund I had built up from parting my e30 out. Too much $$$ in this project to make it a challenge car, but that wasn't really my goal anyway.
I drove the car off the lot and directly onto a flat bed and took it home – I promptly removed all of the damage – measured for square and was pleasantly surprised that the accident hadn't caused any frame damage. The flange on the impacted frame rail was slightly bent but nothing a hammer wasn't able to straighten – it was now time to rebuild.
The accident had ruined everything forward of the fan (radiator, core support, both fans, bumper support, bumper and hood, a headlight, and the wheel well liner on one side. Junk yards provided all the parts I needed to replace everything – along with Ebay finds. Anything meaningful was upgraded – and while I had the front end pulled down to the frame rails, I took the opportunity to replace the water pump with a metal impeller and installed under-drive pulleys. At this point, I've installed silicon radiator hoses, aluminum radiator, aluminum skid plate, used bumper support, used bumper cover, used core support, and a used hood. I bought a headlight from ebay that was badly scratched and hazy, and polished it back to clear without much effort. Here are some shots pre and post buy/repair.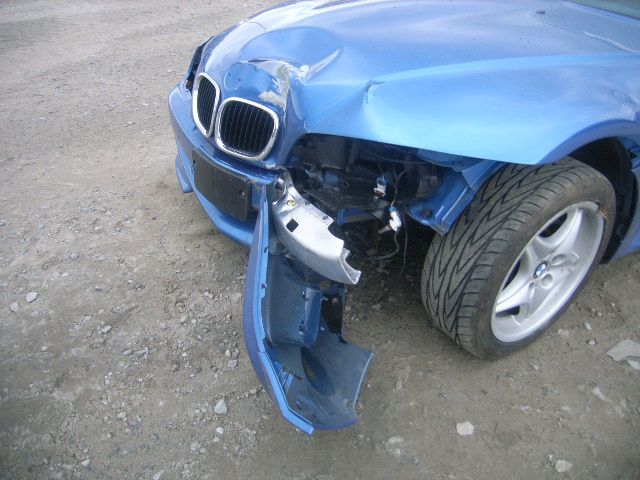 This was at the auction lot. Looks a lot worse than it was so I was lucky that probably scared some people away from the auction. The rear was perfect. Mileage is just over 100k, all rims were straight without any scratches, and the convertible top had no rips. Interior was in great condition aside from the coffee the driver spilled when he got into the accident. All the interior bits were great for reselling and making some money back.
This is the repair progress – should have taken a few more pics in between of the car once the frame rails had been removed but forgot. This is the newly painted core support and patched bumper post install – the bumper had a bad crack and road rash on the bottom lip I fixed with epoxy and rivets before sanding and repainting.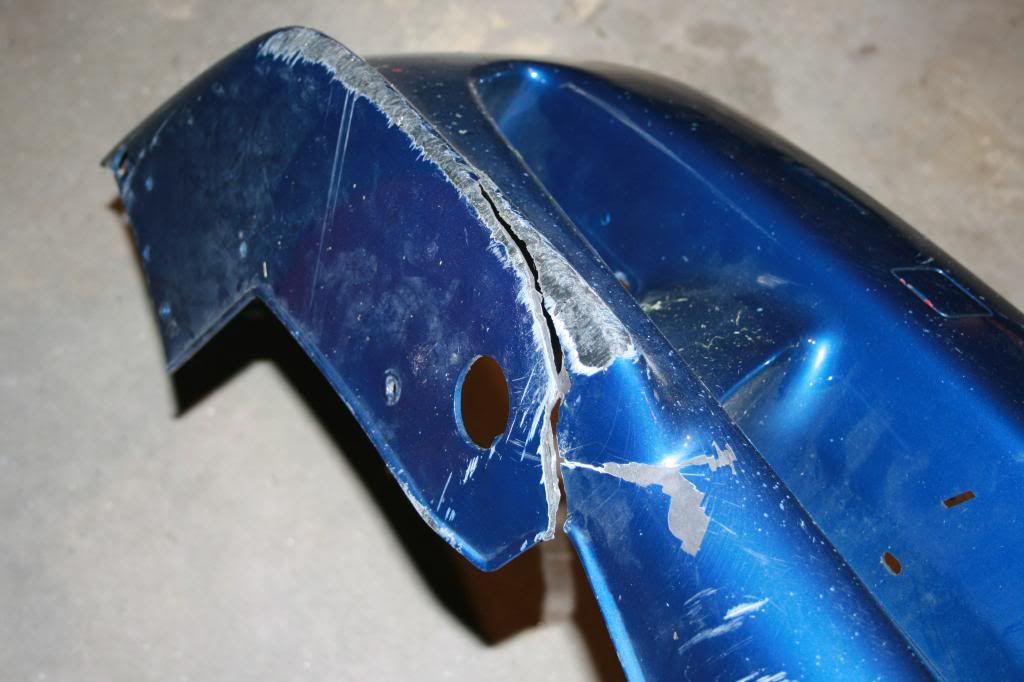 This was taken right after installing the hood – it had a slight ding on the driver's side corner you can't see that I repaired as well. This is the corner before repair.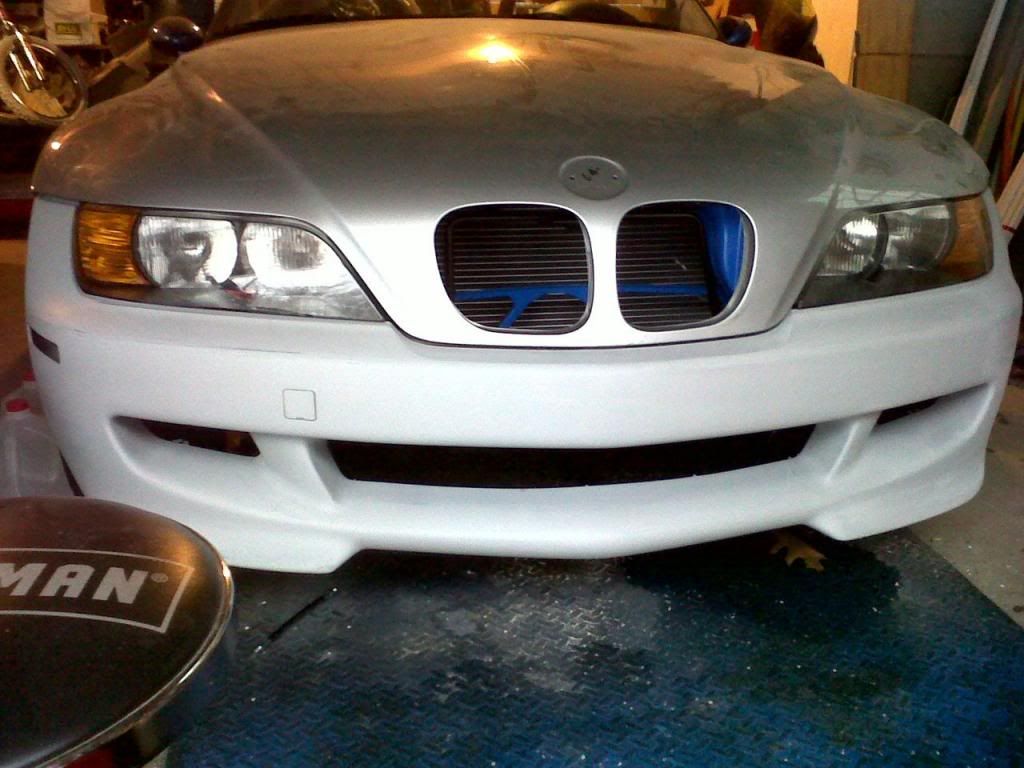 After doing some basic body work in prep for painting (which I later abandoned in lieu of vinyl as you'll later see), I turned my attention to the interior and pulled all the carpet, roll hoops, seats, and the center section/tranny tunnel stuff. I decided to fabricate a panel to insert into the center console for an electrical kill switch and toggles for my gauges. I replaced the center vent with a panel for gauges and wired in a tri-alert system that is tied to a back-up warning alarm in case any of the 3 measurements go out of the norm. The toggles just turn the alarm on and the electric fan since I removed the old one and the associated auto-switching. I also had to put the hazard switch back since it was in the tranny covering, so it is also a toggle switch. The fan and gauge alarm are linked to 2 LED lights so I know their on/off. Here's the center console before installation.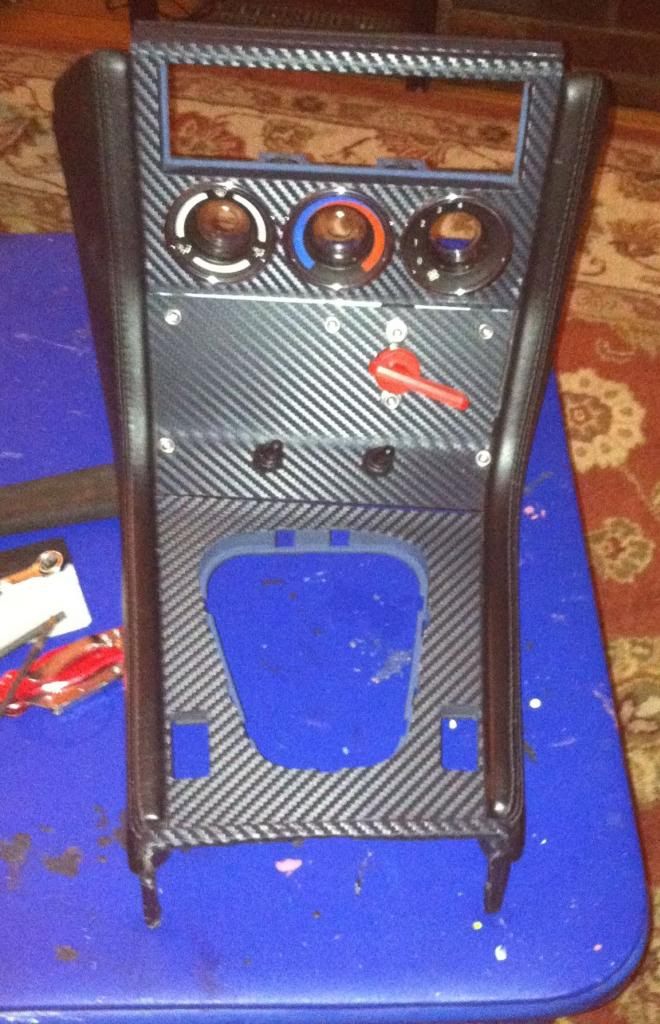 I hadn't yet added the 3rd toggle to this yet but its next to the kill switch. I had to put an aluminum panel behind the kill-switch to give it some regidity, otherwise the plastic would bend, but its pretty solid now. I've left the other stock items simply because I will be driving this to/from track events, and who knows, maybe every once in a while I'll take it into work.
Next was the seat installation – I purchased 2 Bimarco seats and had the covering customized with the "M" logo – decent seats at a killer price - $900 shipped to my door customized embroidery, with brackets. They're FIA certified and fit perfect (me), the car fit was not so easy, but I got them to work. I fabricated 2 seat brackets from T6061 Aluminum bars that allowed me more side-ways movement than anything I could find online. This was the only way to get the seat ears to fit over the doors. The window just clears them and I was able to get them pretty centered behind the wheel.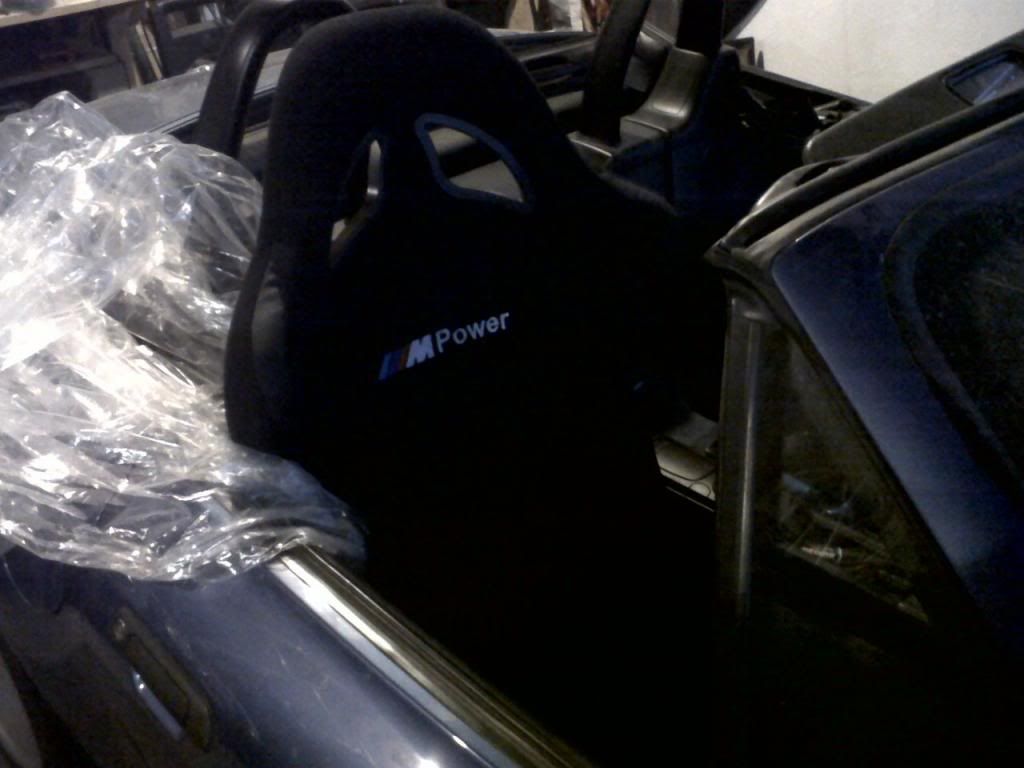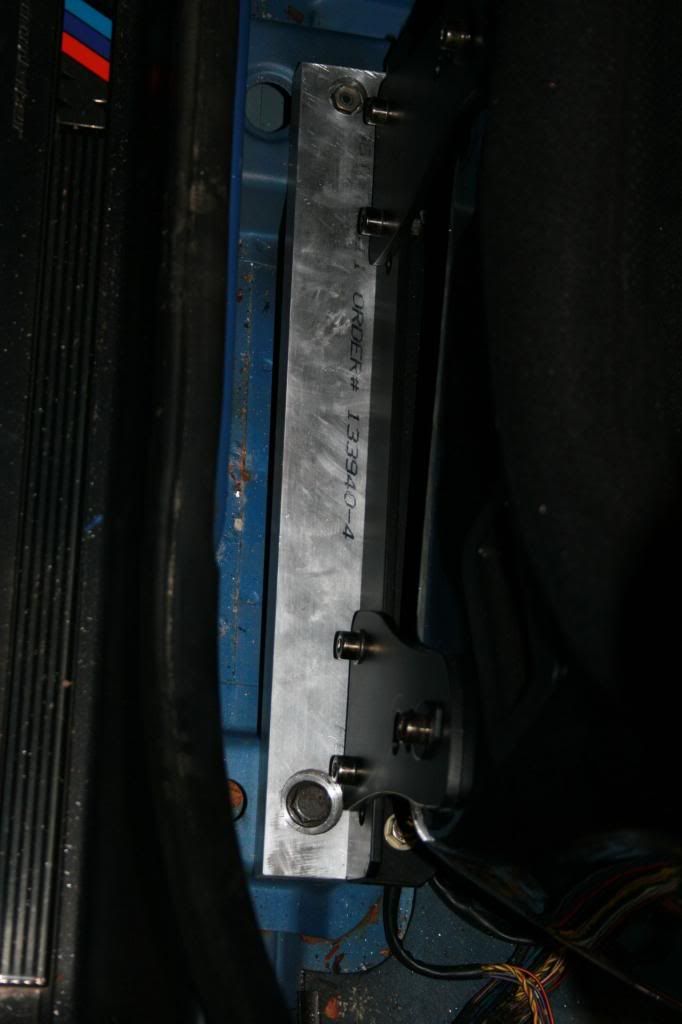 After the seats where installed I started work on the roll-bar installation – purchased the Hard Dog roll bar since it was pretty easy to install and had great feedback. It fit, but tight and the top just barely clears the upper bar. The most recent work involved the floor boards. With the carpet removed, the electrical wiring and plastic bits to protect them aren't really ideal for feet. I purchased some aluminum diamond plates to use but after a while it just didn't appeal to me. They were a bit flimsy and seemed difficult to work with in terms of cutting and shaping. Then I came across aluminum honeycomb boards – these things are awesome. Light-weight, very rigid, and you can use normal tools for them. This is 1 sheet of 3x4 that allowed me to cut out both sides. The shape was traced from cardboard templates I created – then just took my circular saw to them and shaped the rounded areas out with a router. Since the honeycomb and top/bottom layers are so thin, its like cutting plastic but the rigidity of these is much better than the diamond plate I had.
Once cut, they fit nicely. I rounded out some areas where the main electrical wiring looms run to ensure they don't cut into any wiring.
Once I knew they fit, I painted them black, covered them in grip-tape, and wrapped the edges with gorrilla tape. They're bolted to small aluminum brackets I bent and screwed into the flooring.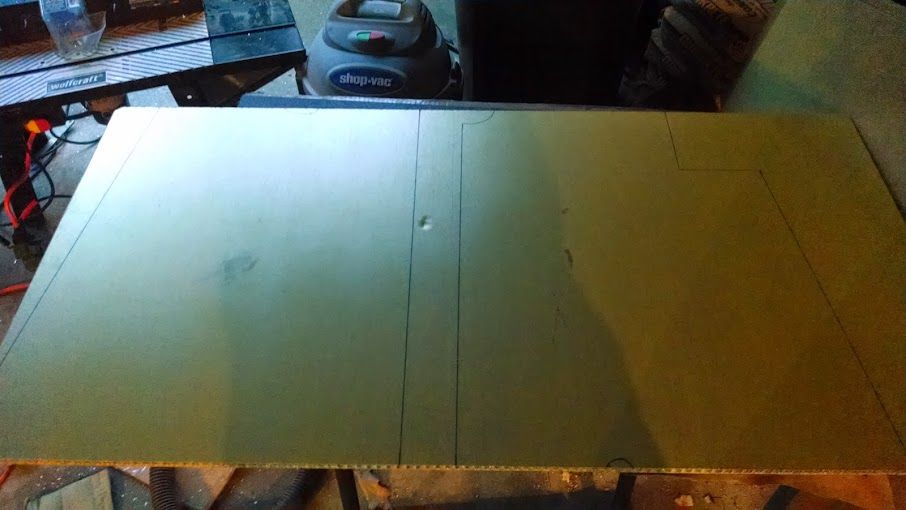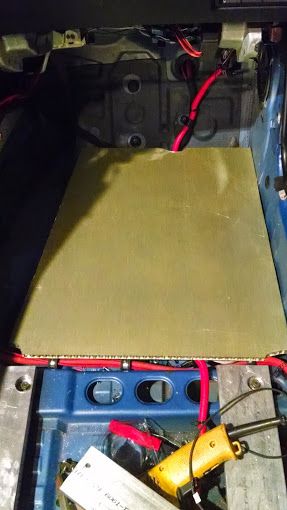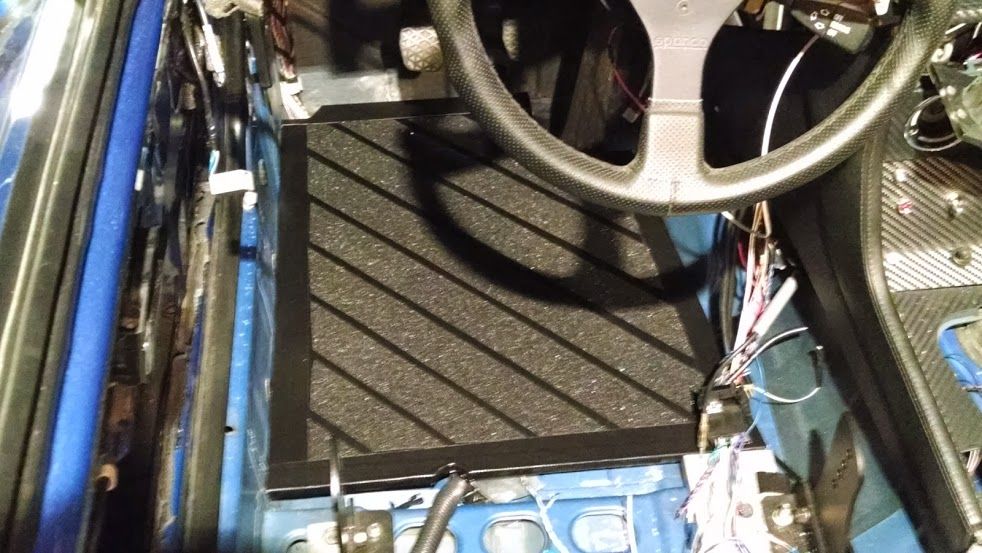 This is what it looked like part way through the vinyl work. This also shows the roll bar after installation.
The vinyl now cuts diagonally down the doors to finish off the line from the hood. I'm going to finish it off by putting another piece of matte black down the center of the hood so that the silver is more along the lines of 2 stripes, and I have silver vinyl I'll put down the back down the trunk lid to carry the silver lines from front to back. I'll then start to add race decals and numbering – more to come on that.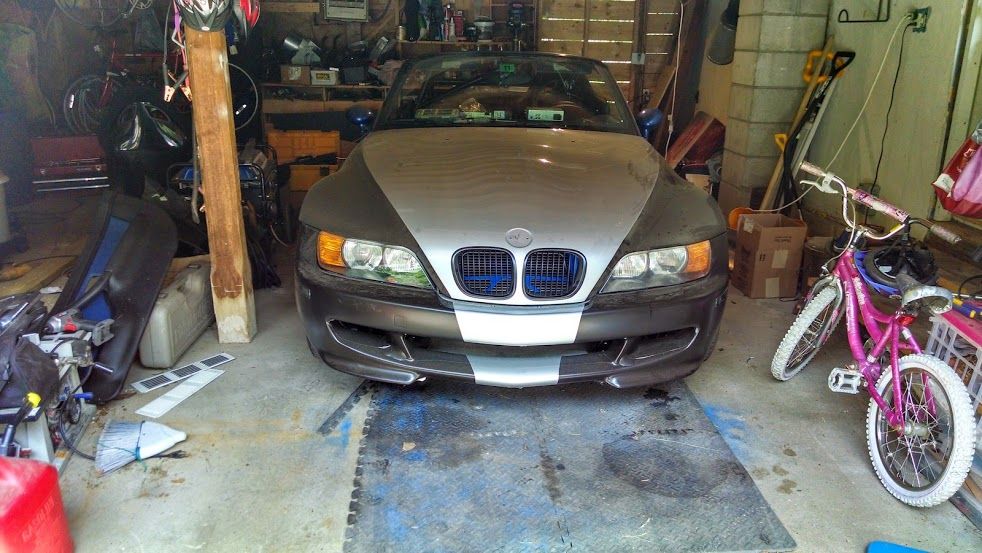 Excuse the messy garage – just getting to a point where I can drive it in and out of the garage so cleaning is next.
That's it for now – have been working on cleaning up all the wiring behind the center console and will next begin to install new suspension and brakes before I finally get this out on the road.