After selling the Boxster a month or so ago, I started looking at Mustangs. I've had a few, two late aero-nose Fox bodies, two SN95s, and a Coyote-powered S197. For a while I was fixated on finding an early 4-eye Fox, especially one with T-tops. I will always love the look of those, and the Fox body, while quite a poor chassis in stock form, has unlimited possibilities via the aftermarket. But I wasn't happy with what was out there for the money. Seemed like everything was either poorly modified, ratty and rusty, really expensive, or some combination of the three. Another S197 was always on my radar, too. The 2011 I had was a fun car, but not the right DD for me at the time. Now I'm looking for a pure toy, as I have the Expedition as a daily.
Anyhow, long story short, I ended up finding this black 04 on FB Marketplace and getting it for what I consider to be a very good price:
It's in pretty good shape, not perfect, but most importantly it's COMPLETELY BONE STOCK. You wouldn't believe how rare that is in the used Mustang world. 100k miles, clean Carfax, GT Premium so leather seats, upgraded stereo, etc. Black wasn't my first choice, it really never has been, but it's always second or third, so somehow or another I've ended up with a lot of black vehicles.
Cosmetically there are a few issues. It was in a minor rear-ender at some point, and it looks like someone tried to rattle-can the end of the bumper cover:
So, the plan there is to wet sand it and buff it and see how it comes out. Push comes to shove, I remove the bumper cover and get it professionally repainted or try and find a clean replacement at a junk yard.
Also, the leading edge of the hood has what looks like bedliner on it:
Not a fan of this. My assumption is that, being a Ford with an aluminum body panel, the paint was starting to flake off, so someone masked it off and put this stuff on. For now I'm going to paint the bedliner gloss black to match the hood better so it doesn't stand out so much, but I'll keep my eyes open for another black hood. Mustang guys love putting big stupid cowl induction hoods on their cars, so I should be able to find a takeoff.
Other than that, there are some typical stone chips and other imperfections that I can deal with.
The interior is basically mint, with one exception, the leather is starting to peel on the shifter knob: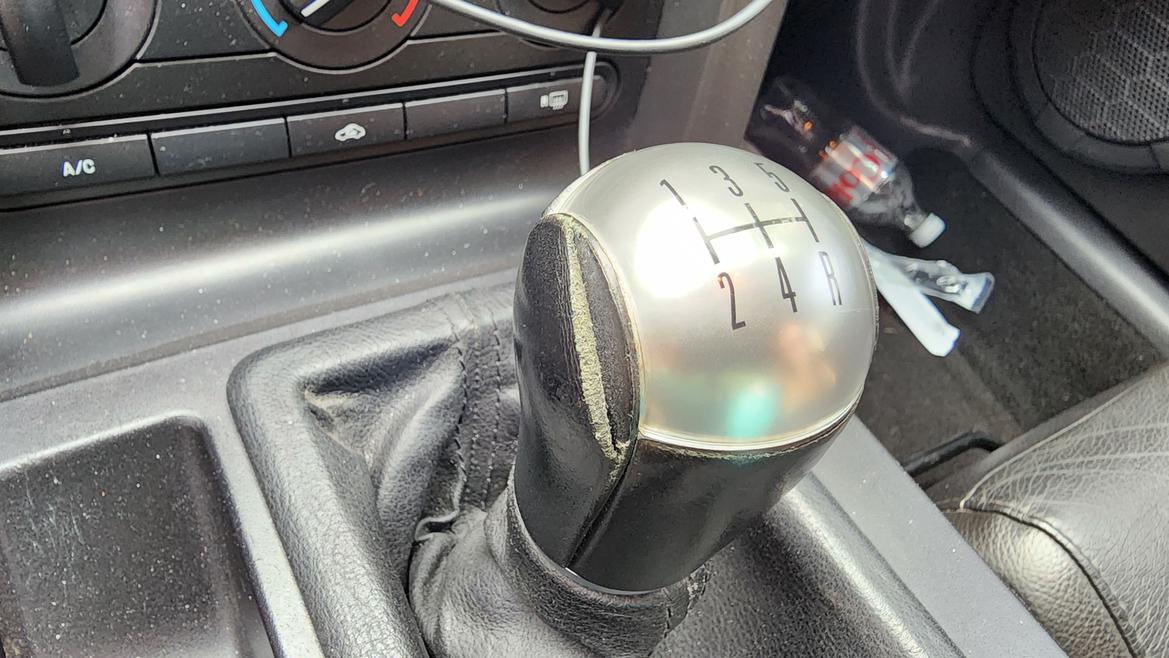 I'll try and glue it for now. If that doesn't work, LMR sells a new factory-style knob for $75. I'm not a fan of any of the aftermarket knobs.
Also, it's kind of hard to see in the pics, but it has some cheap tint on all the side and back windows. It's all streaky on the side windows from them going up and down, as you can see near the mirror:
It's also kind of bubbling around the rear defroster lines, so it's all coming out.