I got my Accent about a year and a half ago and have slowly been building it for SCCA Rallycross. During this time, I've had enough people interested in it that I figured I might as well do a build thread. I've never really done much on forums so we'll see how this goes, just figuring things out as I go.
So I guess my story starts in 2018, I was eager to get into racing in whatever way possible, I was looking at doing autocross, but found there was a SCCA region with rallycross not too far and that seemed more my style. So I took my daily (2014 Ford Focus) and had a blast. After that I wanted to get a cheaper car that I could drive hard without worrying about breaking my daily driver. I didn't have any specific car in mind, but I wanted 4 cylinder, front wheel drive, and a manual transmission. With a low budget, I felt more confident getting something from a salvage auction than Facebook Marketplace or Craigslist; I figured if a car was lightly wrecked, at least it was running well enough to get into an accident.
Honda Fit's and Ford Fiesta's were high on my watch list but they would always sell for more than I was willing/able to afford at the time. Hyundai Accent's however seemed to go for a lot cheaper, so after months of watching auctions I put a bid on one that looked to only have some minor front end damage but it was listed as "Runs and drives". After my bid won, I borrowed a truck, rented a dolly, and set off on a 4-hour one way drive to pick up my first ever project car.
The car was brought out on a big forklift and placed perfectly on my dolly. Excitement set in realizing I finally owned a project car. I quickly looked over it, mentally trying to make a list of things I would need to do. Once I got it home and was able to dive deeper into it, I quickly realized how expensive body parts can be. I needed to repair or replace a lot since I wanted to get it through the enhanced inspection to change the salvage title to rebuilt. After adding up all of the expected costs, I figured it would be cheaper to just buy another Accent to steal body parts from. So I was back to the auction site, and three months later I found one with a nearly perfect body (had scratches and minor dents, but nothing broken), 219k miles, a manual transmission, and a clean title. I figured since it wasn't wrecked, it probably wouldn't run or run well, otherwise why would it be at a salvage auction, but that didn't matter since I was only planning on taking parts from it. After I got it home, I started it up and took it for a drive and found that it was mechanically in better condition than the other one, that combined with the clean title made the choice very obvious, the parts car was to become the project car. After replacing two tires and welding up the exhaust leaks, the car passed state inspection and was road legal.
With the car street legal, I could finally start the build process and take it to rallycross events. One of the first things I got for the car was a set of wheels to use for racing in place of the stock steelies. Luckily the Accent has 4x100 bolt pattern, so theres plenty of wheels out there. I ended up getting a set of Acura Integra wheels for a good deal and after sand-blasting and painting, they looked good as new. I got 15" wheels solely because it's easier to find 15" rally tires, even though I was planning on just running snow tires, but I found a set of used DMack gravel tires for sale and picked them up. The tires are 195 width which is a bit wider than I should probably run on a lower power fwd car, but they get the job done and they were cheaper than buying a set of snow tires.
Next on my list was mud flaps. I got some scrap aluminum sheet for free and made my own brackets inspired by the ones on rally.build and made them to bolt to the car and the mudflap attaches with a large rivet. I had heard people say that Ikea cutting boards made good budget mudflaps, I don't live near an Ikea but I bought similar ones off amazon for ~$10. I liked the look of the multicolored mudflaps but after one short drive on a gravel road, all four were broken. Since that was a failure, I got a semi truck mudflap, also ~$10, and was able to get four car sized mudflaps out of one. These semi truck flaps are thicker than Rallyarmor or Rokbloks, pretty flexible, and have held up well so far with about six events on them.
From doing rallycross in my daily, I knew I wanted a better seat and and a harness to help hold me in. I got a Corbeau Forza seat and a 4-point harness from Racerdirect. Unfortunately there's very little aftermarket support for the MC Accent so I had to make my own custom seat bracket. I used the bottom portion of the stock seat rails and welded some steel plate to it to bolt the seat to. I don't have pictures of the bracket right now, and since I'm out of town for work for a while, I'll post them up when I get home. I will be adding additional support to the brackets when I get home just for added strength, also I'll probably add a slider so that I can let my friends run it as well.
I opted for a 4-point harness because in SCCA Rallycross, at least where I run, there's very little risk of rollovers or hitting anything harder than a cone, so submarining isn't much of a concern and I still have the stock seat belt to use when driving on the street.
I also wanted to have a better grip on the steering wheel so I got a NRG steering wheel and quick release with a Sparco hub. Since I still wanted to have a horn button, I took inspiration from other builds I had seen and used a 2-lead stretch cord meant for using with a trans-brake on drag cars.
Since my exhaust was very rusted out and barely hanging on, I figured it was due for replacement. With how little aftermarket there is for this car, I was surprised that I was able to find a catless header from DNA Motoring. It doesn't seem like anyone still makes any other exhaust components specific for this car so I had a local shop weld up a custom 2.5" stainless exhaust with a Flowmaster high-flow cat, Vibrant resonator, Vibrant muffler, and Summit Racing v-bands. I sprung for the v-bands so that I could easily change my set-up so I can have it quieter on the street, louder on the course, and be able to take the cat and muffler in and out depending on class or venue requirements.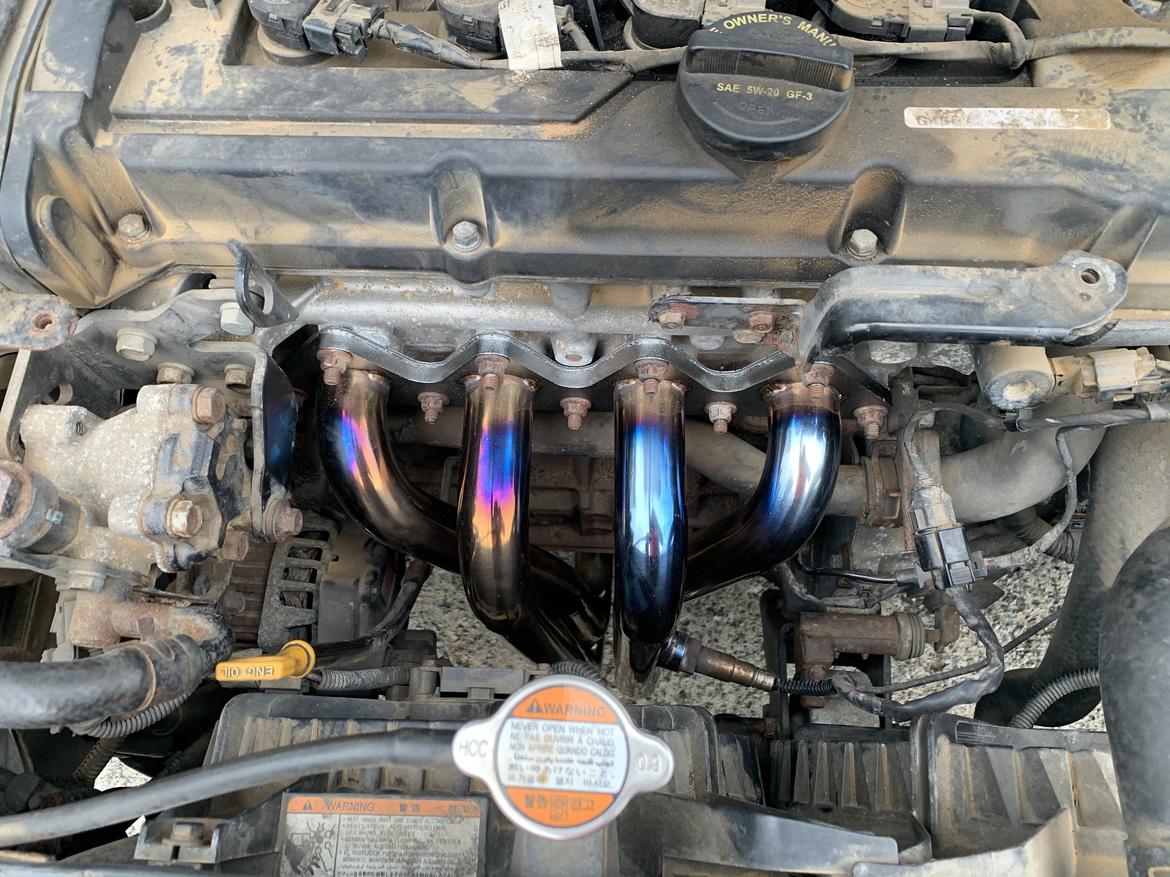 Once I get back home later this spring and can take more pictures, I'll talk more about my skidplate, front tow strap, oil catch can, and all of the other stuff I have in store for the car this season. Plenty of mods and work to be done this year.