A little late to getting this posted but want share the build we are bringing to the challenge for team LoPrep
Obligatory back story:
84FSP and I are challenge virgins, but decided this was the year we would finally attend.
Dave (84FSP) introduced me to Tim (EastsideTim) and Tim mentioned he and wae were wanting to race but not having a car ready. I have been wanting to get a project car since selling my GT in May so a plan came together to kill both birds with one stone
The Type aRgh.
We mulled what to buy when I remembered that near my in laws a 3rd gen Integra had been sitting for a few years. A few phone calls yielded a "please drag this out of here" price of $300.
Three Friday's ago 84FSP and I went and sealed the deal:
The Type aRgh is a 94 LS auto tragic, 207k miles that shockingly runs but has nearly no brakes.
The good;
Price is cheap, looks complete, runs, no mods to undo, near my house
The bad- tetanus level gross, decayed pine needles in every jamb, brakes are nearly inop, misfires heavily under load, valve cover leaking majorly, 04 date code tires, shocks all blown, exhaust is rusted in 2, suspect fans are inop, 0 of 5 motor mounts are functional, probably more but we don't know yet
We limp it the 3 miles home and set to washing
We get it cleaned (so.much.sap) and set to assessing the situation and making a punch list and start to dig in.
Quick trouble shooting finds good news:
Brake lines and most hoses are new
All rotors, calipers and pads are new
Master cyl seems to be the culprit
$35 from Rockauto and about an hour and we have brakes
Facebook market place find scores us used GSR shocks and H&R springs for $100. Attempted install yielded broken bolts and a need to order parts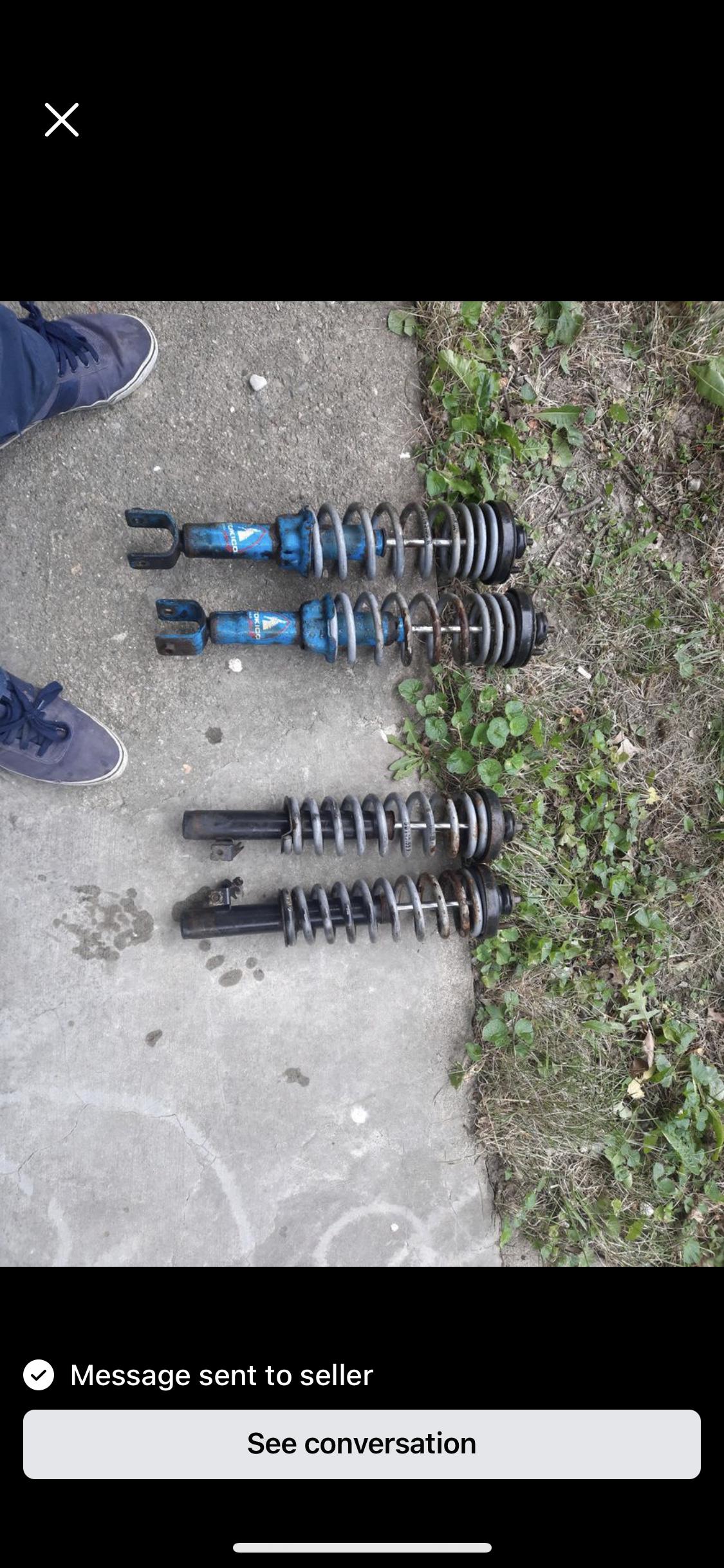 So a $250 rockauto order went in for bushings, motor mounts and a full tune up.
Which leads us to the current state of affairs. Waiting on parts to arrive and researching best budget improvements that will help for the challenge but not destroy the car for my future plans to manual swap and add power. Anyone with tips on these cars (it's my first Honda) or solid rear quarters please chime in!