Well over the last month I have been working on something to get more involved into motor sports, and being able to go on a track and mimic what I have been doing in video games for many years.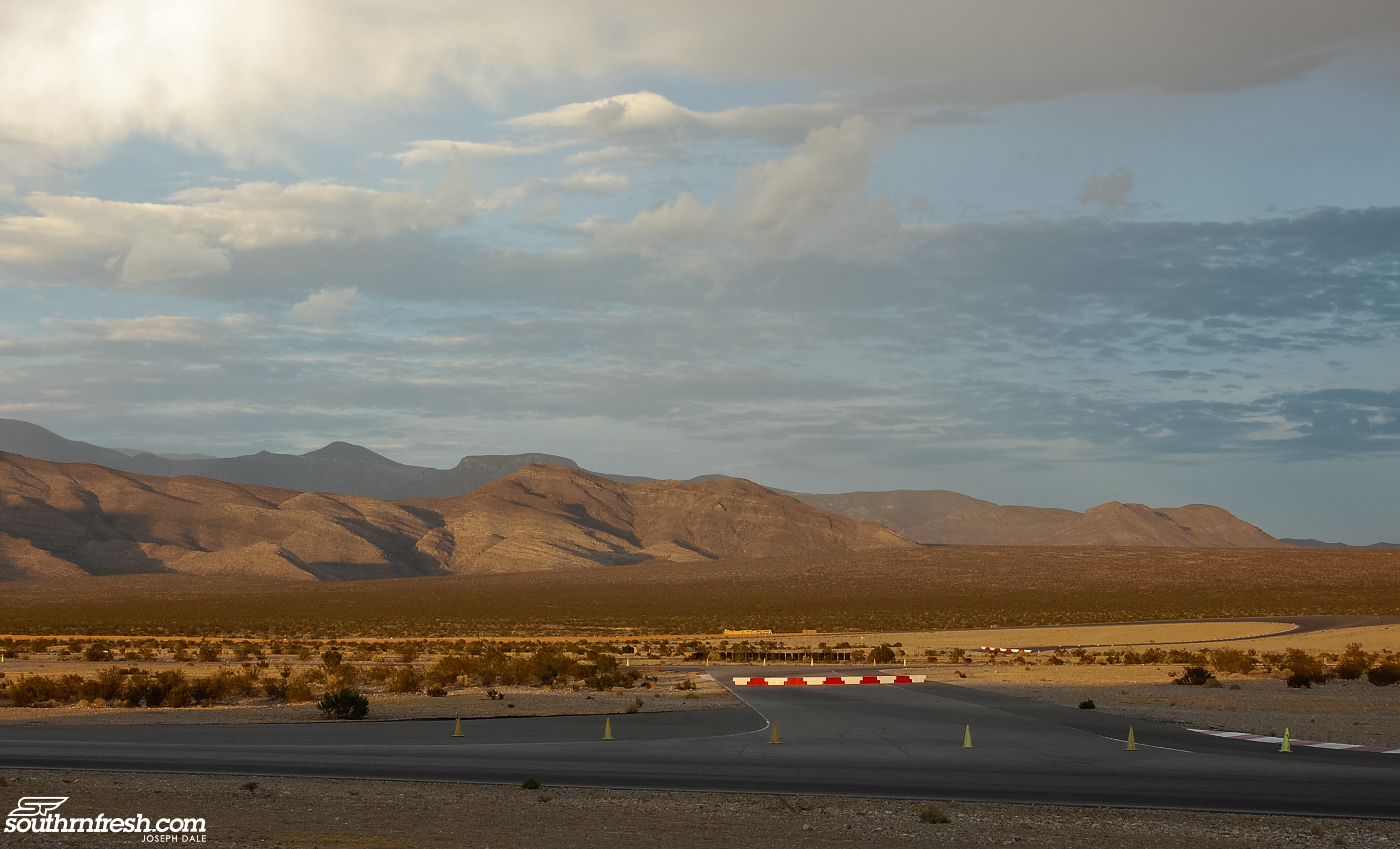 Earlier this year, I won a contest at work and was able to attended the Ron Fellows Performance Driving School in Nevada. It was held at Spring Mountain Raceway, a track that Michelin and GM use for testing and they also host club races throughout the year. The backdrop was stunning, and being my first time in Nevada I was overwhelmed by it all, and did not get nearly as many photos as I should have gotten.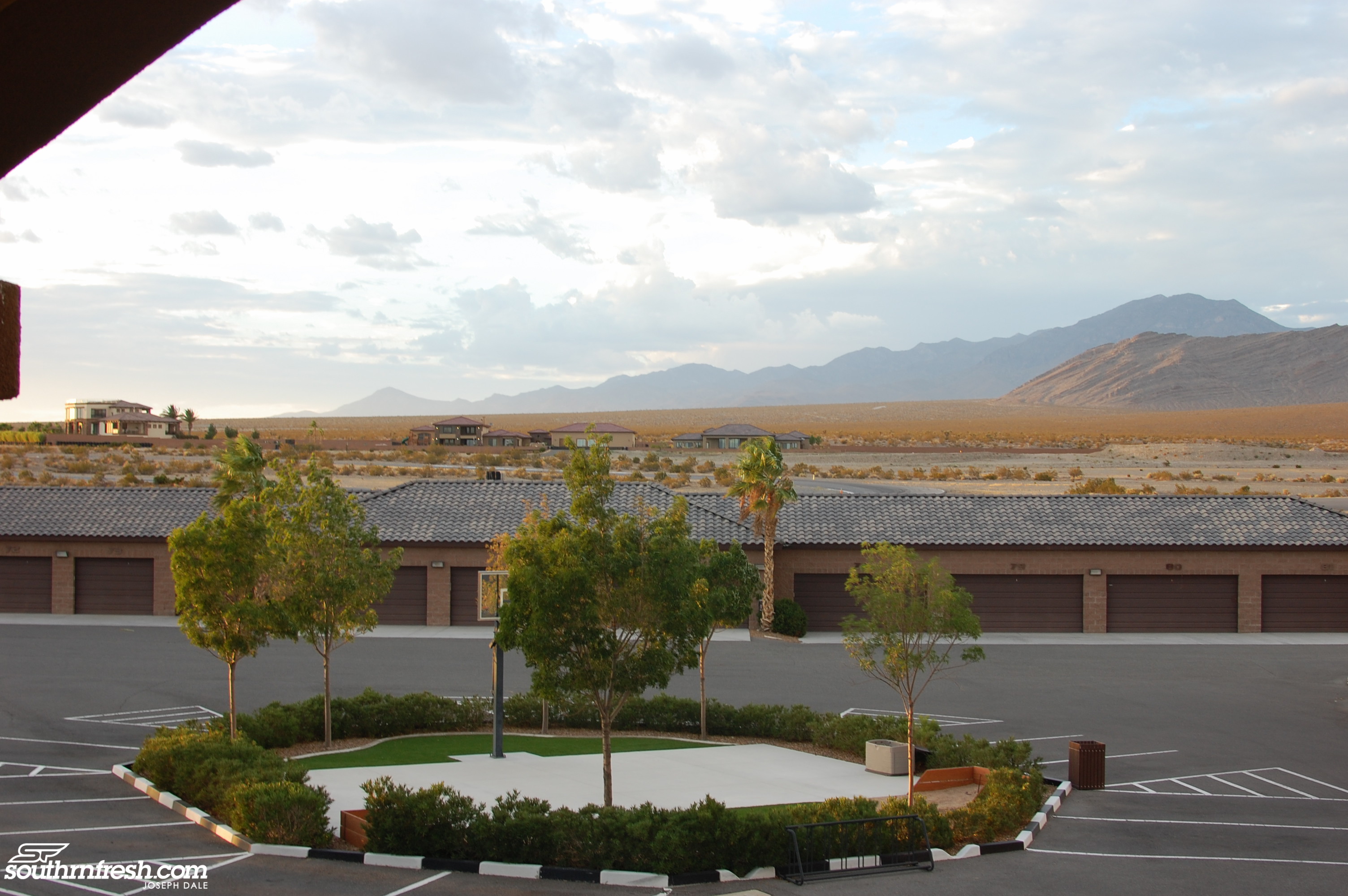 The venue was set up like a resort, they had garages for club members, and a huge hotel on site for guests. If you look in the back ground you can see the owners house's.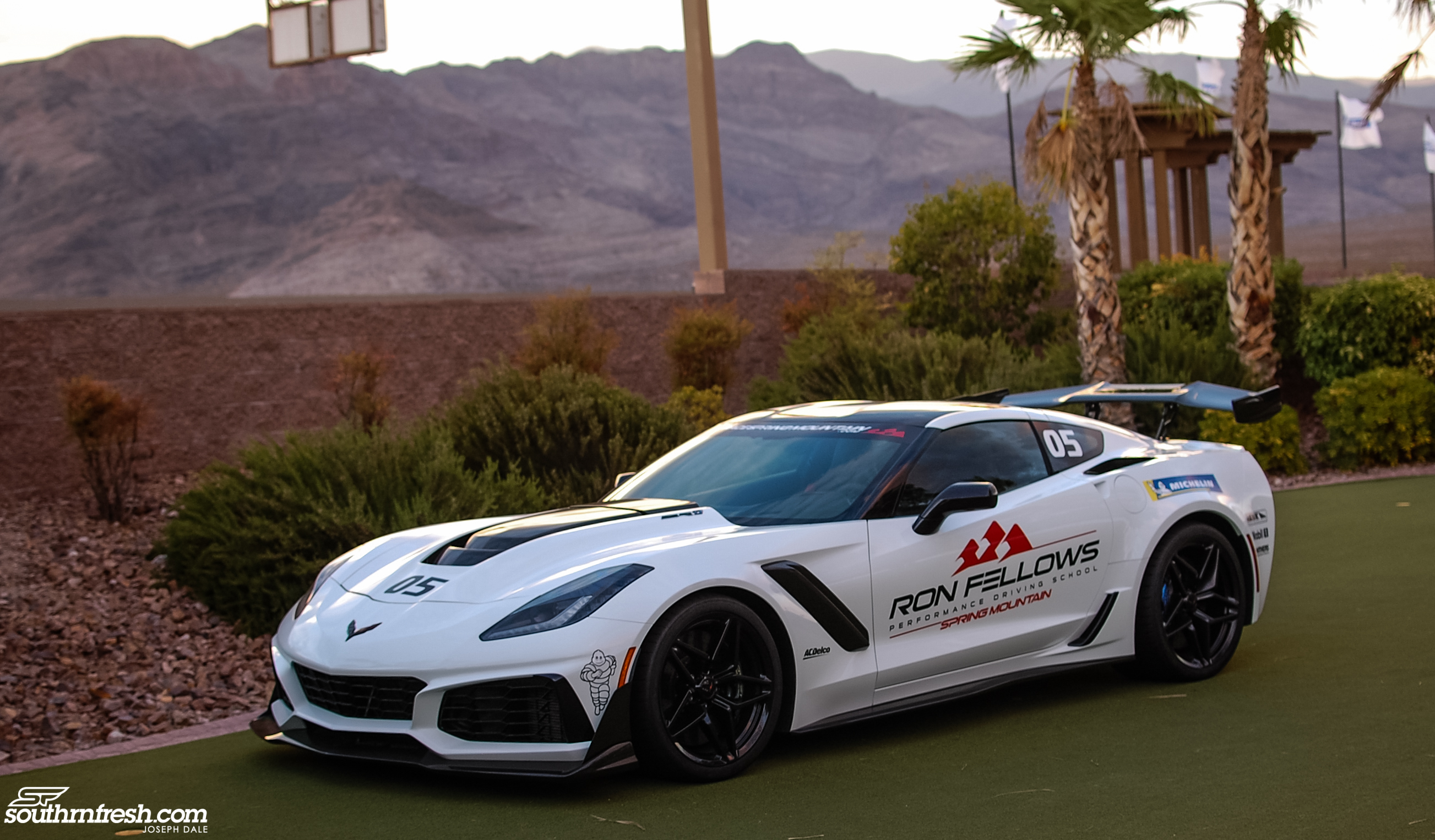 I learned so much at the event it was unreal. Simple things like looking where your going and not in front of you, and holding the steering was key. And once we were able to put the skills to the test it all made sense. We drove stock C7 stingrays on track for one full day and I ended up winning 3rd place overall in the Auto X contest between all the attendees. Going back home and driving was so different after being able to thrash around a corvette all weekend. Back in September I attended a track day for the first time in my own vehicle at Little Talladega in my Jetta. It was a last minute thing, and the track day was hosted by my good friend George (@nemesis5.0). It was a Mustang track day, but he had a few spots open for me to bring my Jetta out for the day.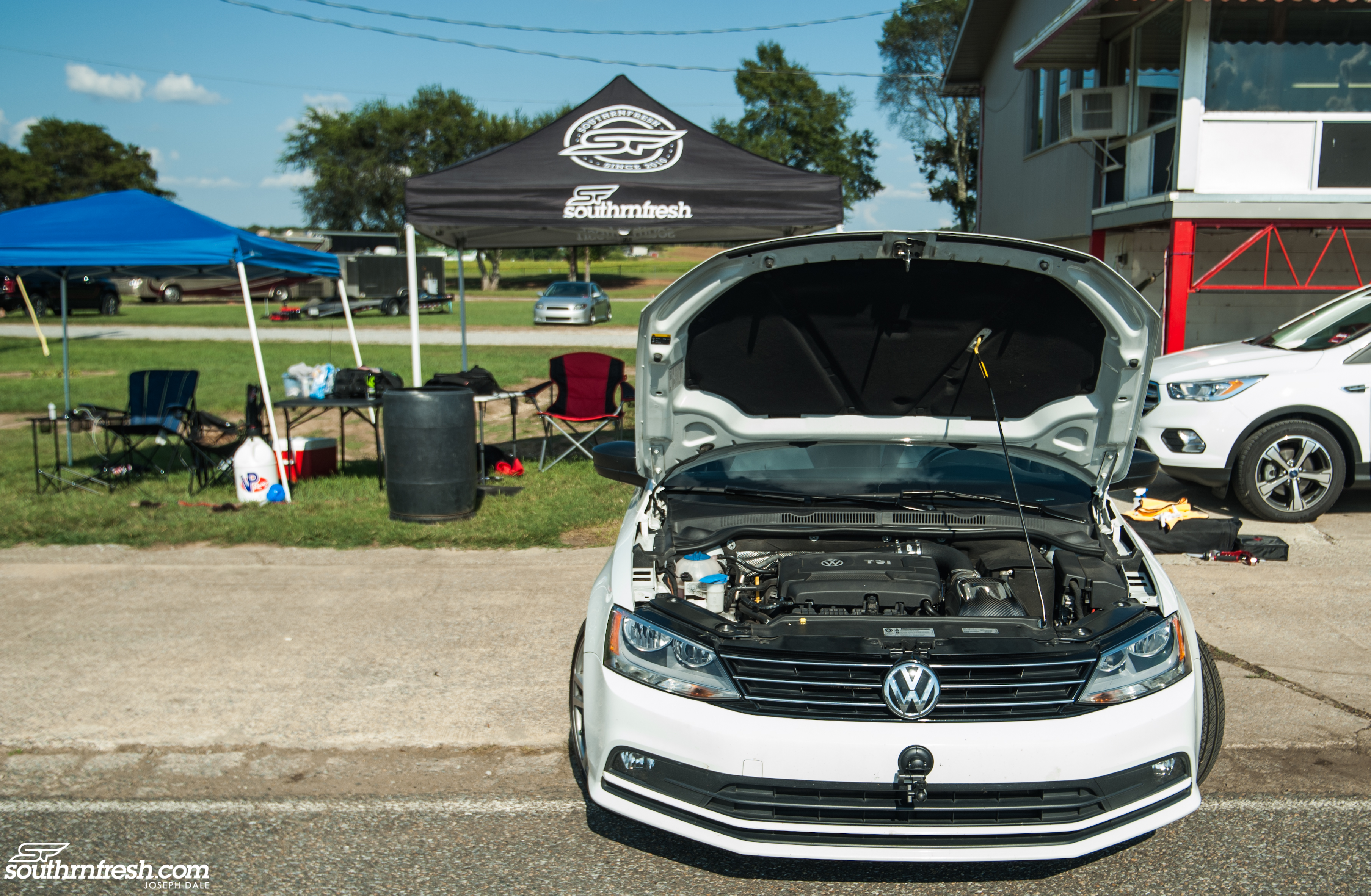 My Jetta is no track car by any means. It has a stage 2 APR tune, and has most of the supporting mods for the engine but other then that it has stock brakes, regular street tires and H&R springs. To me the car handled great, and did what i needed it to do. My biggest fear was my brakes at the event, with the tune and mods, the car has good power. But I knew if i pushed it to hard on the straights I would over due the stock brakes and put myself in the dirt. Before that day the Jetta was a daily driver, but driving it on a track and with no regard was the most fun I had ever had in a vehicle. I was eager to get back out and do another track day in the Jetta, with some upgrades to the brakes and a second set of tires strictly for the track. But on my way home, I noticed the brakes felt a little mushy, the tires didnt feel as smooth, and I realized... damn I have to drive this car to work on Monday. NO part of this ends good for me and the Jetta.
I still wanted to take the Jetta back out again on a track, so I had planned to get it ready for the next event in March 2019. After being realistic with myself, it just did not make sense to put that much wear and tear on the Jetta, and then expect it to be a proper daily during the week. I started to search and look for something cheap, and with a decent aftermarket that I could have to take out and enjoy at track days and not have to worry about it as much.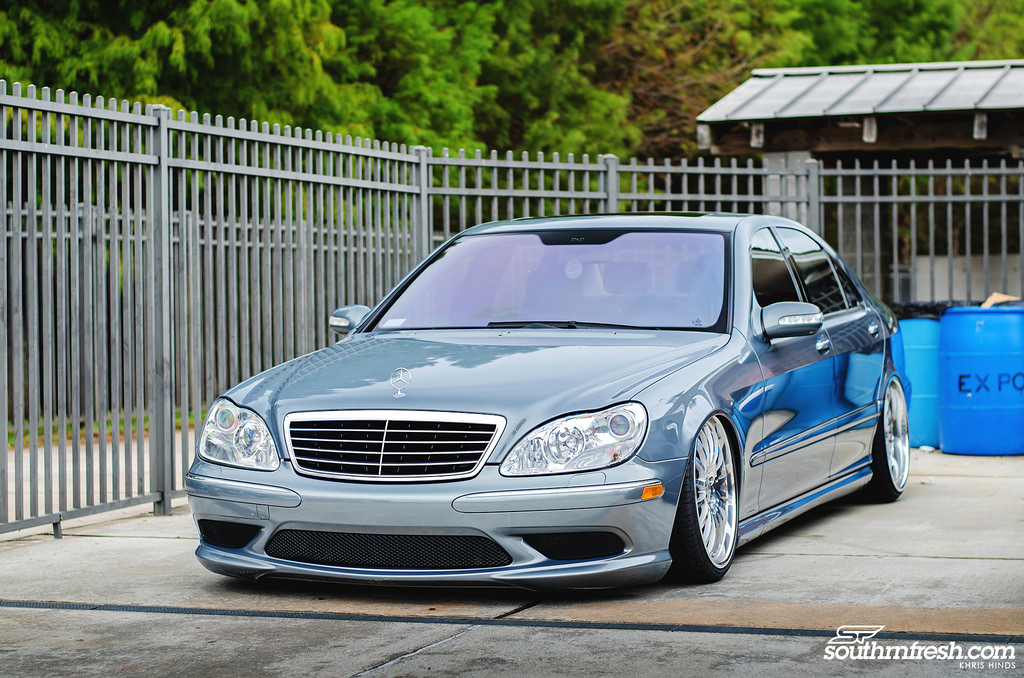 But did not have space or the funds to purchase another vehicle, so something had to go. So i decided to part ways with my Mercedes and help fund this journey. I had not owned it for very long, and it was as nice as it was gonna get in my hands, I had a few sets of wheels for it, and lowered it. The car was damn near perfect for its age, but it wasnt the right tool for the job. After selling the Benz, I had a bigger budget, and went looking for something Japanese, reliable, cheap, fun , and some sort of aftermarket support. I narrowed it down to a RSX, EP3 Si, Integra, Prelude, Mazda Protege, SRT4. I noticed that all the cars were from a certain era. To me the 99 to the 2000s was the golden era for the import automotive scene. The cars were what they were meant to be and nothing more, but they can be transformed into whatever you want it to be. They were not trying to be luxury sedans, they were efficient , nimble, economical and sporty .
Finding these cars in decent shape for a good price is really tough these days. My biggest thing was having a decent body, and be in good running condition, if it needed repairs it was fine, I just wanted to be able to drive it home under its own power. I did not wanna have to pull a motor, transmission or do major body work from the start. Most RSXs were beaten to death, or to expensive. Majority of the EP3s suffered from the same problem. Integras and Preludes were all over the place, but either it was swapped and just needed a "tune" or it to expensive. I only really saw one SRT4 for sale but it was a little too cheap and jsut did not seem right.
I have owned 13 Mazdas and deep down I wanted another Mazda. I owned a Mazdaspeed Protege back in 2013 and it was a great car. One of the best handling FWD cars at the time, but the cars are plagued with drive train issues and were under powered. Like the SRT4, the MSP was not as easy to find in good running condition for a reasonable price. I had thought of maybe finding a MP3 or a Protege 5, which shared the same handling dynamics minus the turbocharged engine.
I had my eye on a really clean EP3, the car was a little more then I wanted to spend. But I wanted to at least throw him a lowball offer and see if he would bite. Before I could offer him , he told me the car had been in a fender bender and he was selling it for cheaper then what I was going to offer. I was mentally prepared to be driving home a EP3 Si that afternoon, the only thing I needed to see was photos of the damage. And that is where the communication stopped..... I never heard from the guy again after that.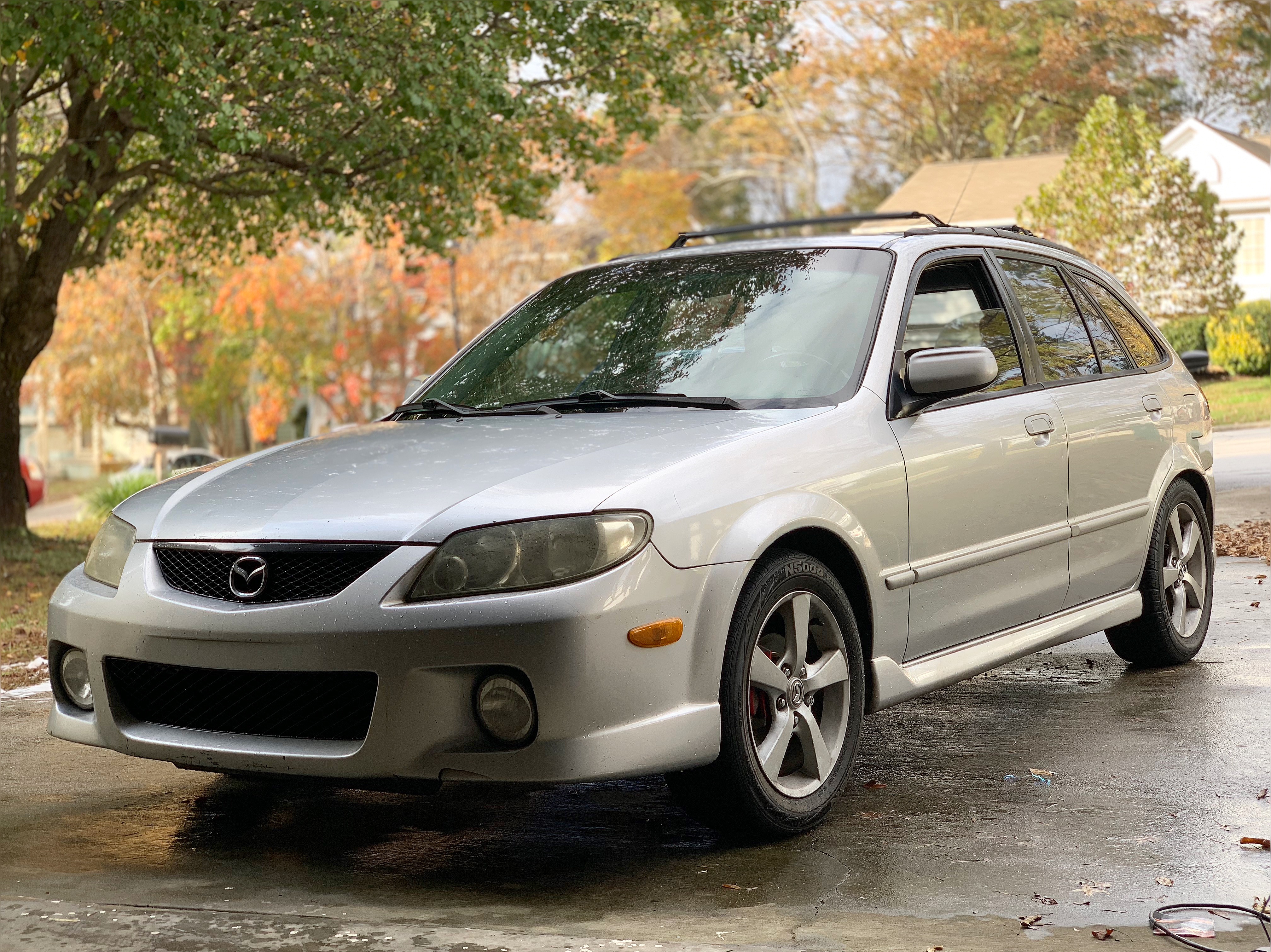 I had been seeing this Protege 5 popup on CL for almost a month. The car was a little too cheap, so I was suspicious of it. Thinking that it had to have major issues that they did not mention in the ad. But never took the time to read the ad, and see how honest it was. You can almost visualize what type of person you are dealing with when you read their Craiglist ads. The car was owned by a couple that had been driving it to work for the last few years. It seemed perfect, the last thing I wanted was a modified car. I got a response from the owner at around 5pm as I got ready to leave work. She had mentioned that someone else was coming to buy it later that night, but I had called here first so she would hold it for me if I could come by that night. At that time it was around 6pm, and I was sitting in traffic on 285. I did not get to their house until around 7:30, drove it around the neighborhood and was sold on it instantly. The car was clean and well taken care of by regular people, ready to be ruined by me. I drove home, got a ride back that night, and bought the car for $1200! The most notable issue was the left front hub bearing, which is a common issue. The only thing that troubled me was the 288,000 miles. But the motor and transmission felt solid on the ride home. But I could not get a true idea what I am dealing with until the wheel bearing is replaced.
My goal with the P5 is to get involved in doing track days, auto x, time attack and just being behind the wheel on a track. I wanted to be able to drive the car at its full potential with basic upgrades and learn. I also wanted to stick to a tight budget, and try my hardest to save any way I can on some things, but spend the extra dollar when necessary. The P5 at one point had a huge aftermarket and was a very popular car when ti was released. The car was pushed to the side once the Mazdaspeed 3 was released. A lot of the big names do not really support the car as much anymore. The weakest part of the P5 is the drive train, but nothing that can not be prevented. Without turbocharging the 2.0 liter FSDE motor will last as long as it needs to. But if not careful it will easily spin a bearing, mainly due to the oem oil pan baffle. If you ever heard the phrase "zoom zoom boom" it literally came from the 2.0 FS motor. Its sounds bad, but its not as bad as it seems, especially if you know what to do to prevent it from happening.
The first goal of this build is to make it to the March Track day being held by JZilla Track days with my friends at Atlanta Speed Company, who will be helping me on and off the track with the build. So I will be sharing the process with everyone here, and soon move on to adding videos alongside these posts in the near future.
A week after purchasing the car I got the Wheel bearing replaced on the front driver side. And upon further inspection the passenger side was brand new, so I lucked out with that. The cost of the part was only $25 on Rock Auto .
While getting the bearing done, I figured it was a good time to try and get some better brakes on the car. So we went with a easy and cheap oem upgrade.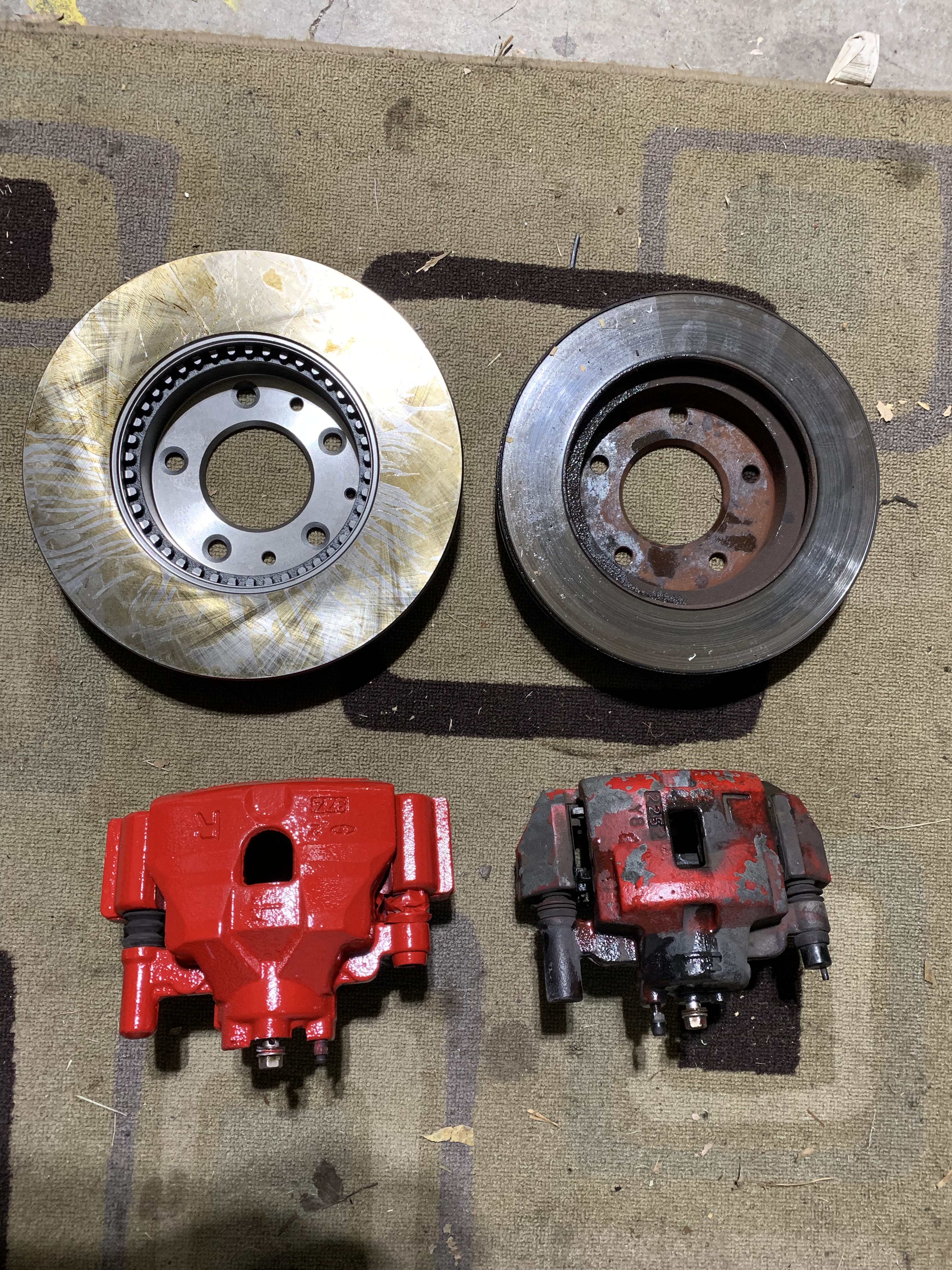 The left Caliper is from a 2004 Mazda 6, and the Right is the OEM Protege 5 caliper. The swap is a direct swap and requires no additional modifications. The Mazda 6 rear also works on the P5, I am just gonna go with a better pad and rotor for the rear.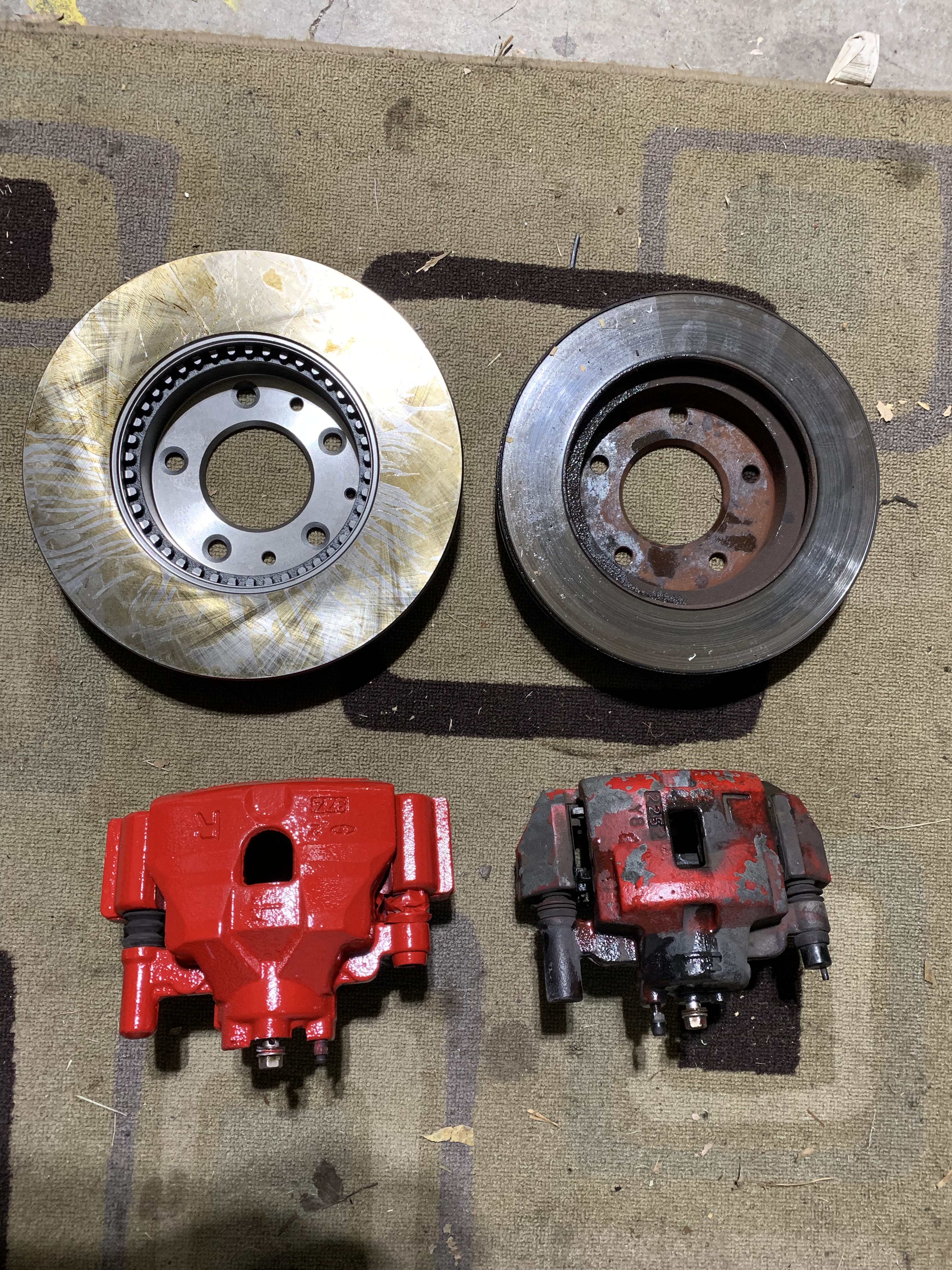 A race car red paint for the calipers...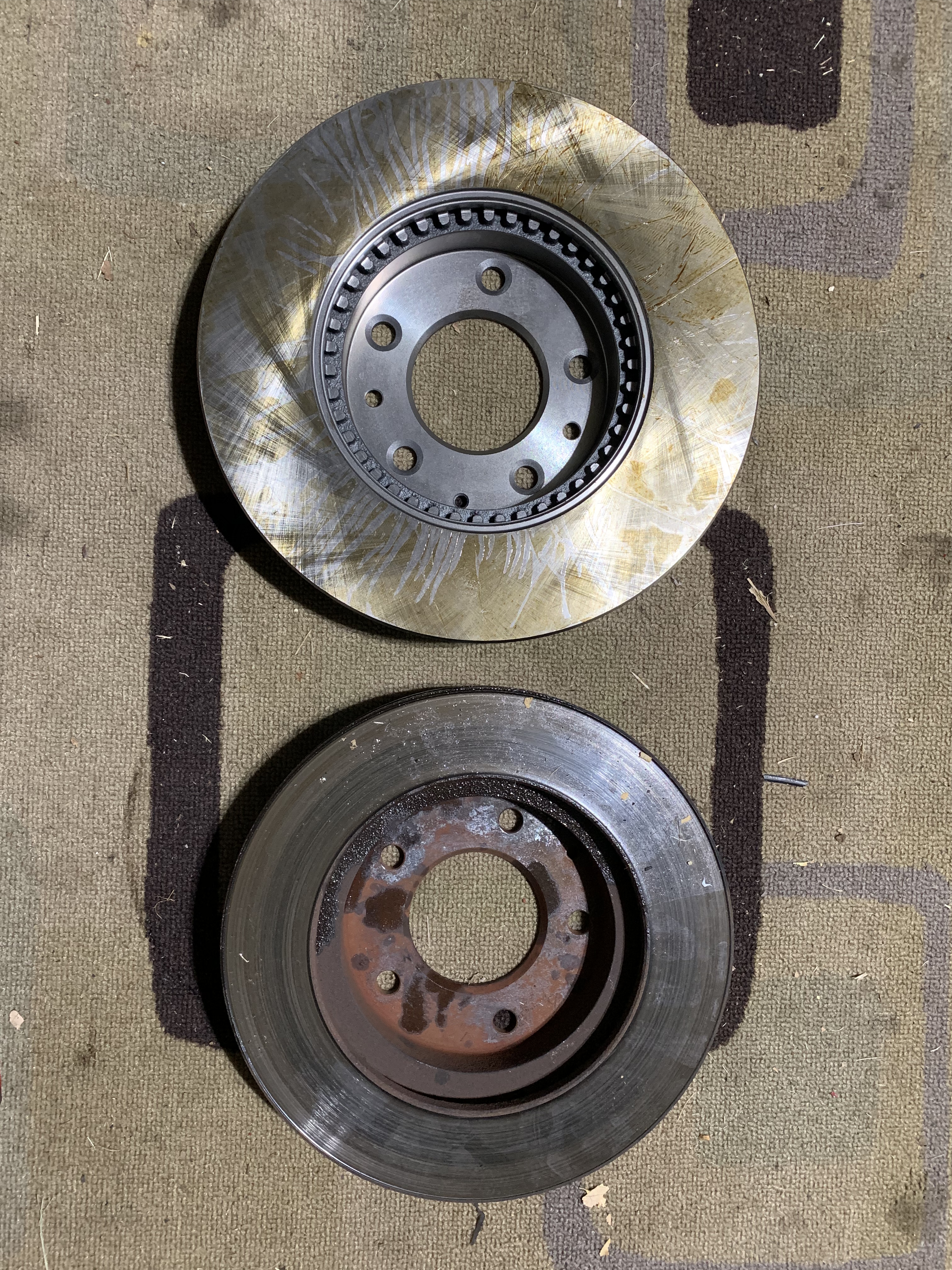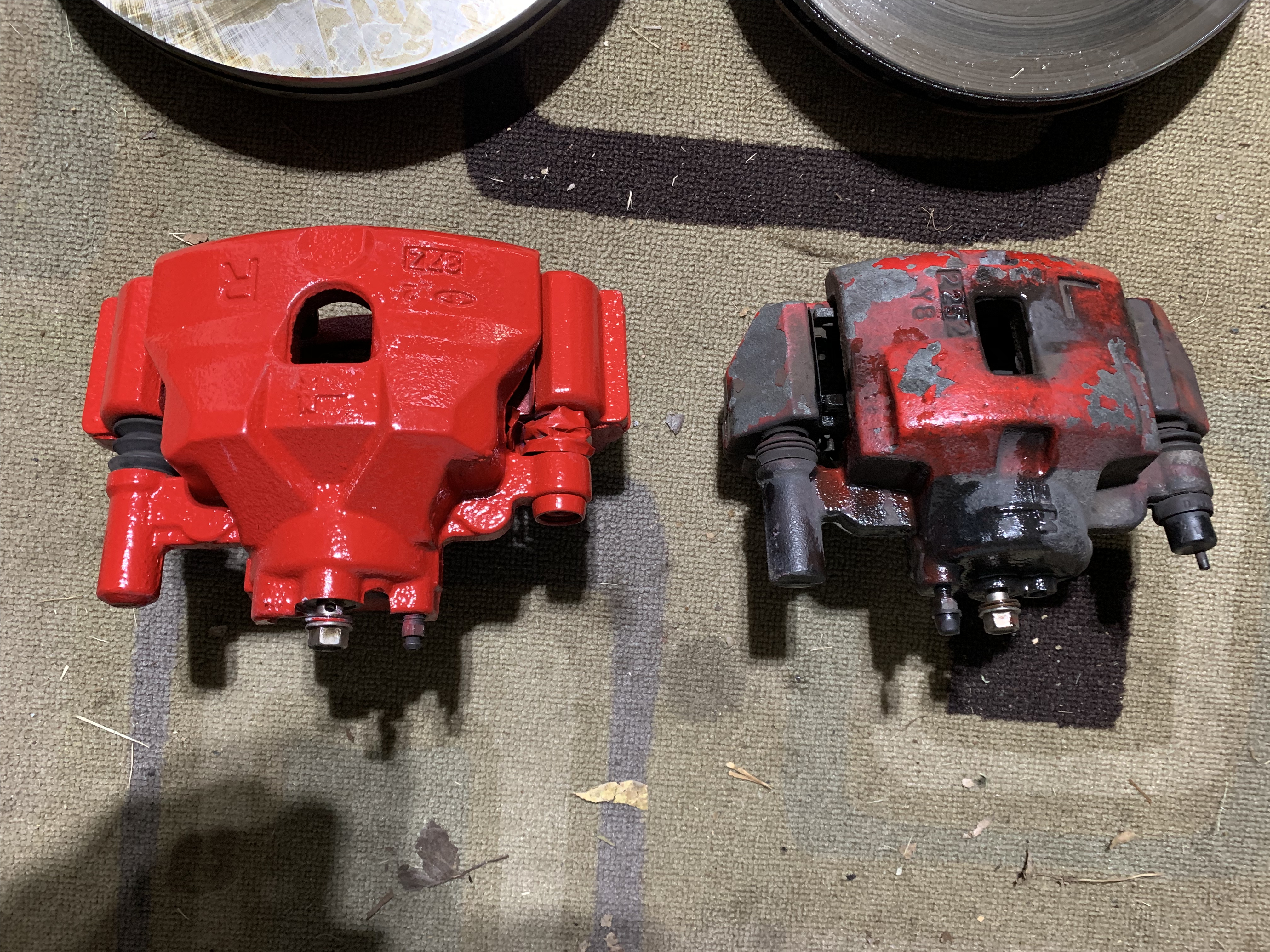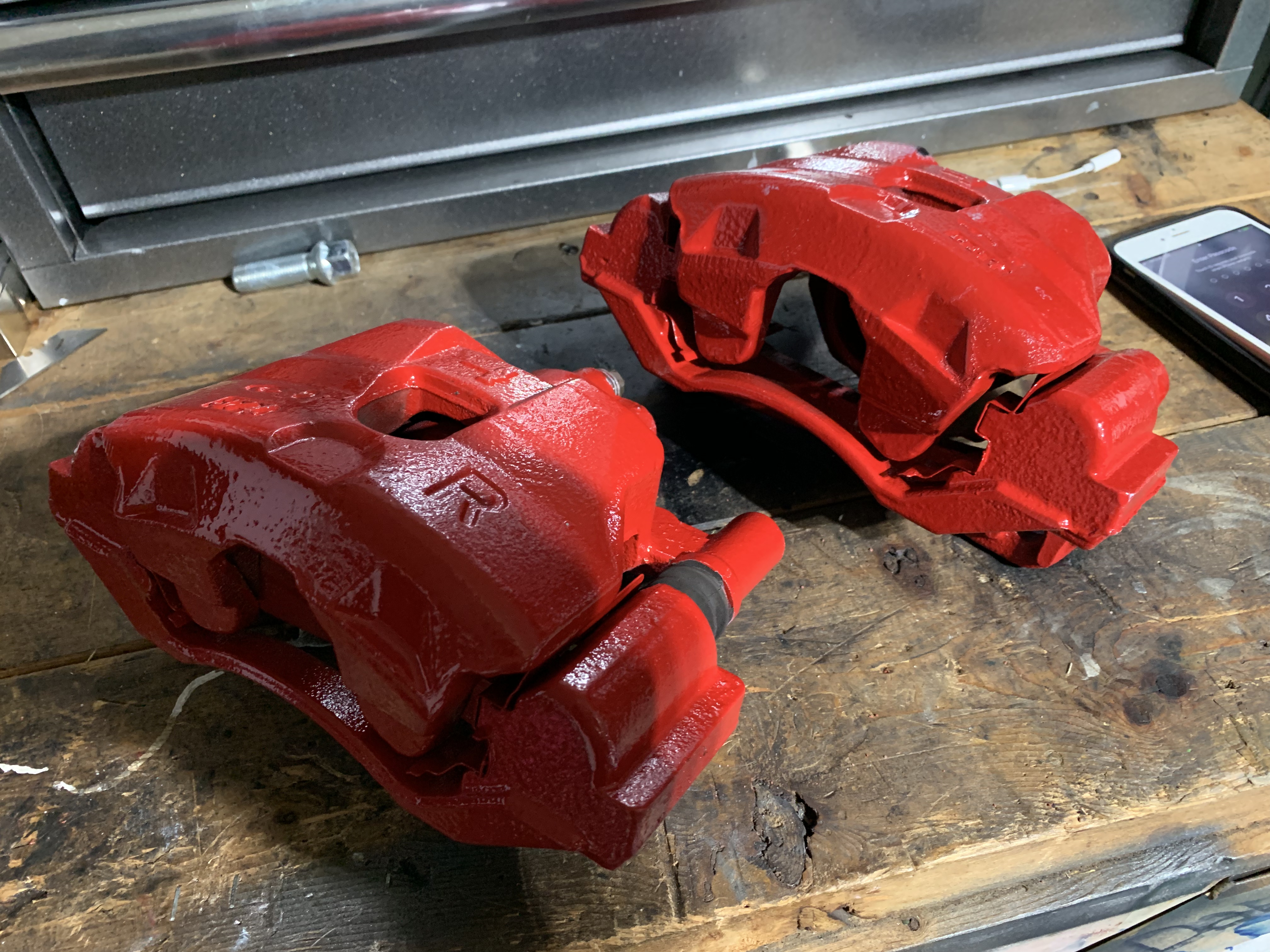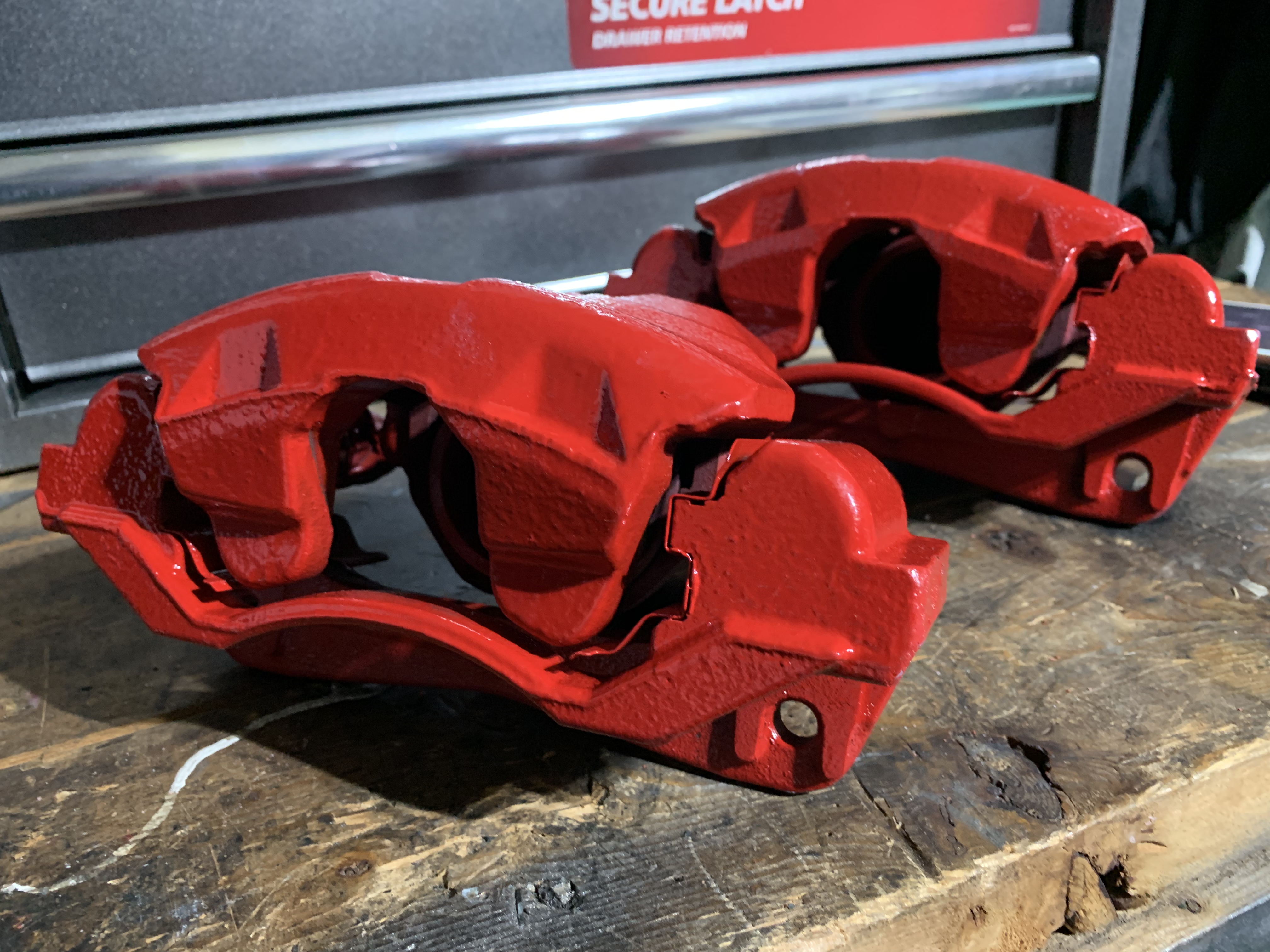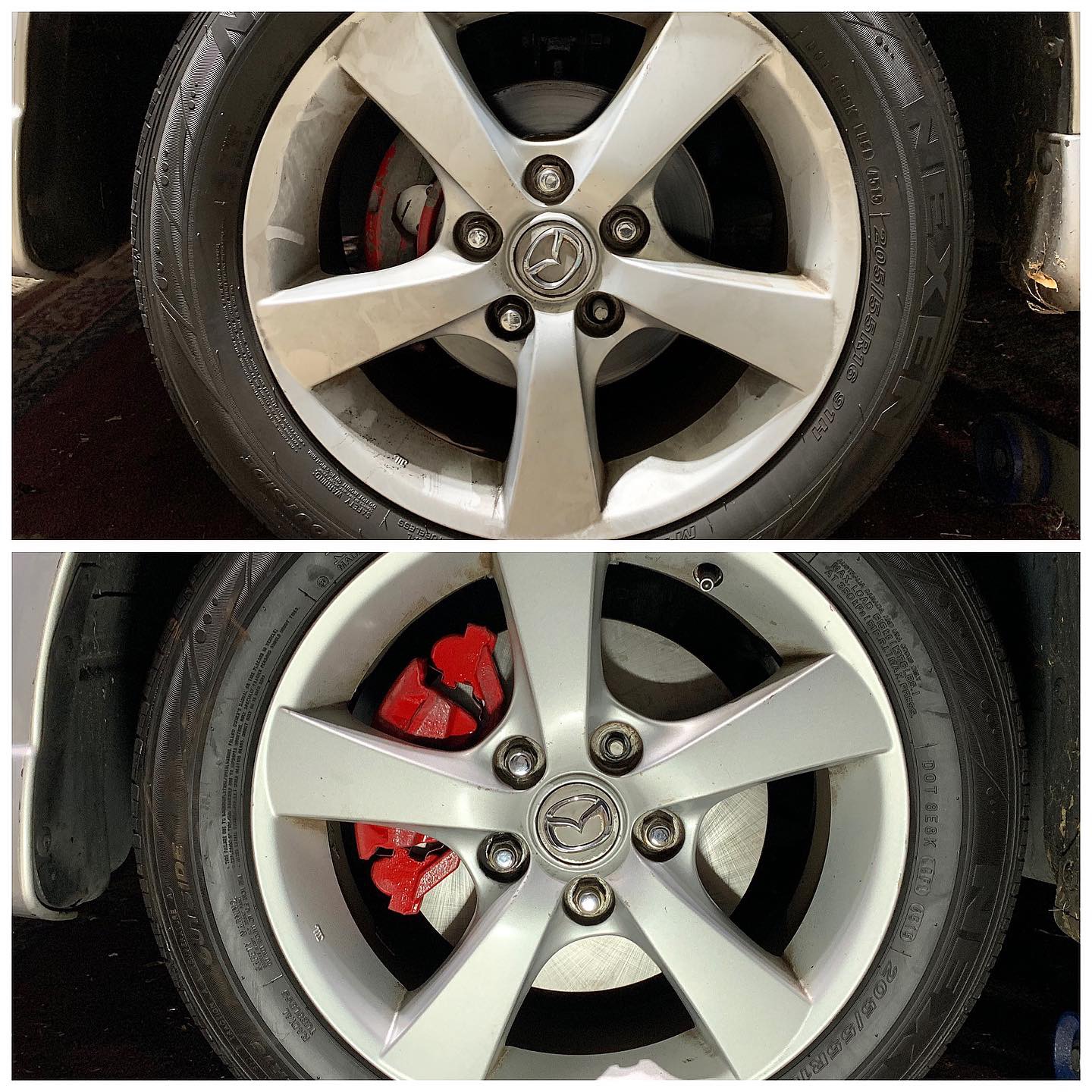 You can really see the difference in the two above. The difference was night and day with this upgrade, being so much lighter then the 6 the P5 stops on a dime. You can also use the Mazdaspeed 6 brakes, but it requires the use of a 17" wheel, and it would make finding replacement pad/rotors a little more difficult if I had to go with specific MS6 pad and rotors. And the regular 6 brakes get the job done. This cost me a total of $90 including new blank pads and rotors.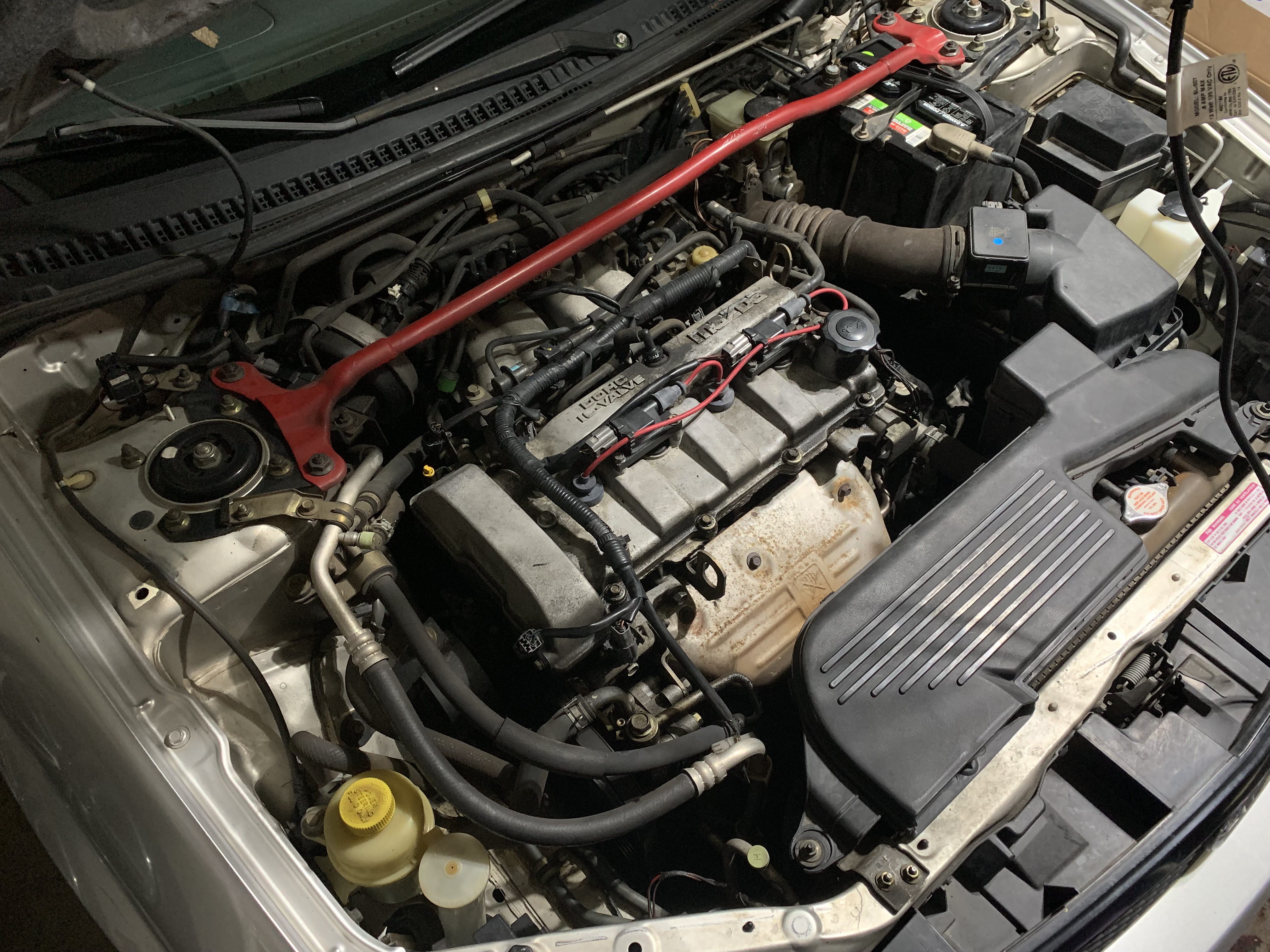 Mazda has always had some of the most cluttered engine bays. So I wanted to clean it up some and make things more accessible. And the car had a real bad valve cover gasket leak that needed to be fixed.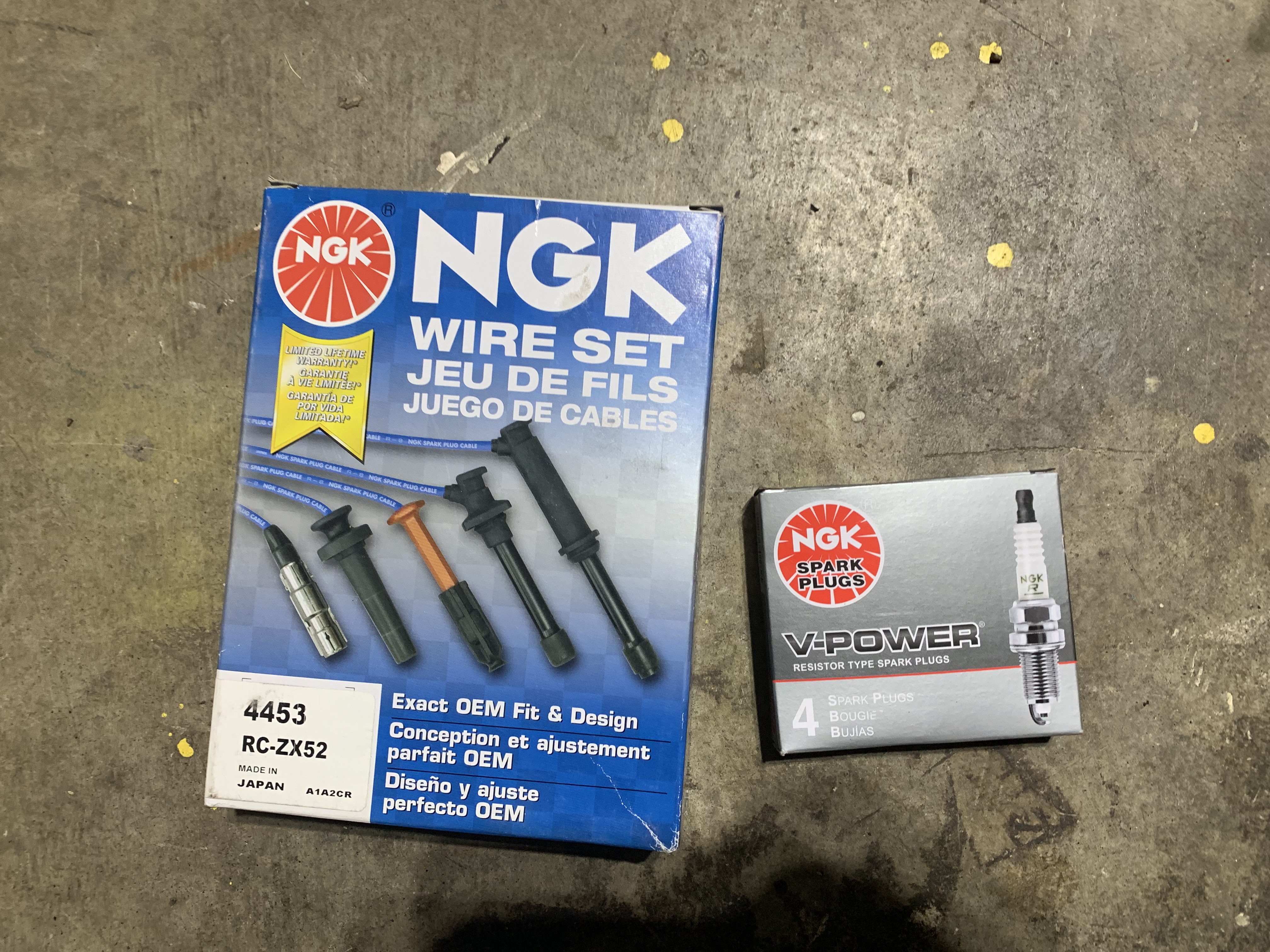 The previous owner said he just replaced the plugs and wires, but I always feel the need to replace them on any new car just because.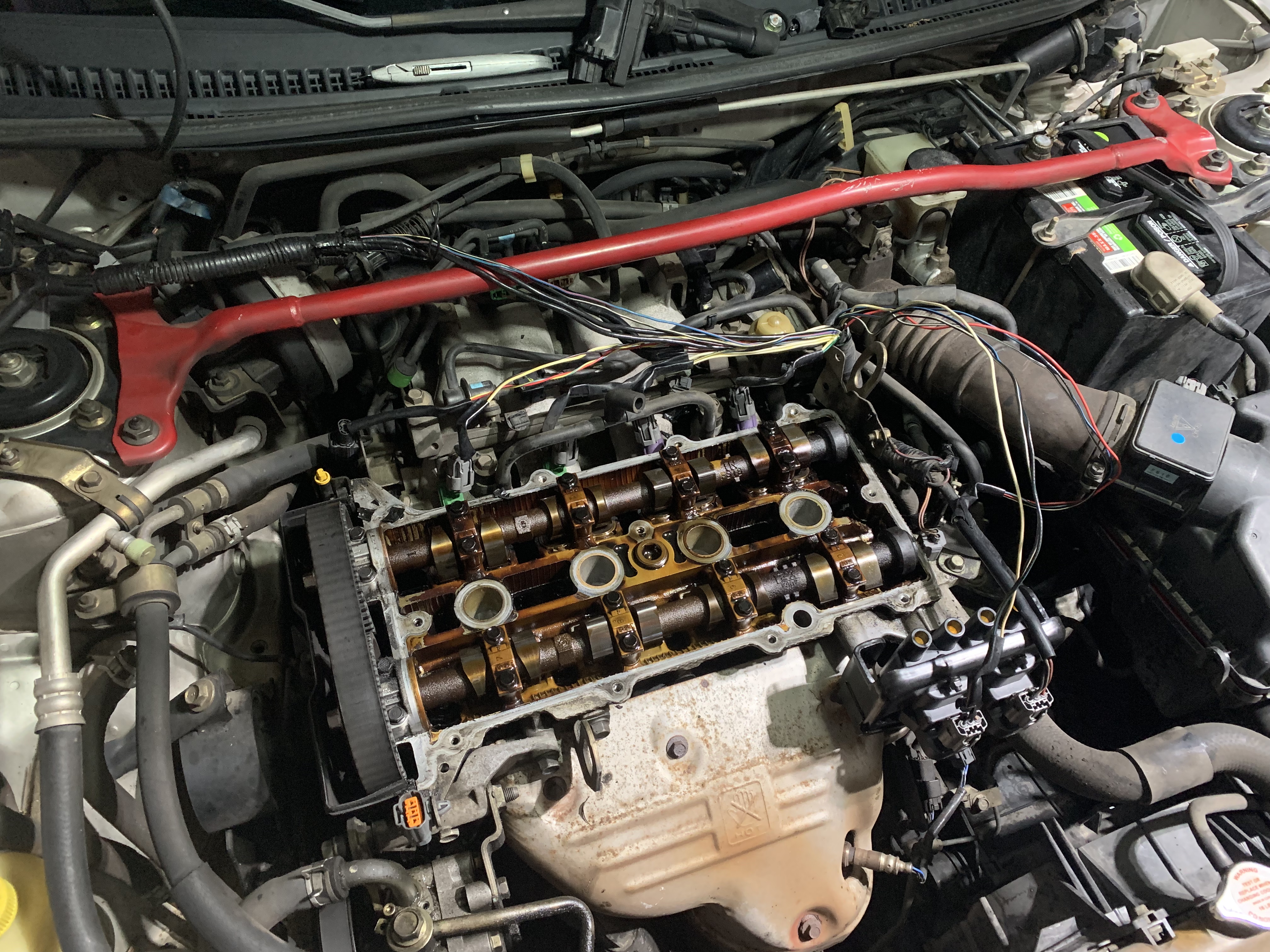 To get rid of some of the clutter, you can convert the ignition system from a shared 2 coil setup to a individual coil setup. But it requires a 626 valve cover, and a coil and wire from a earlier model 1.8 Protege. You simply unwrap the coil pack harness, and it gives you more space for you to use the setup.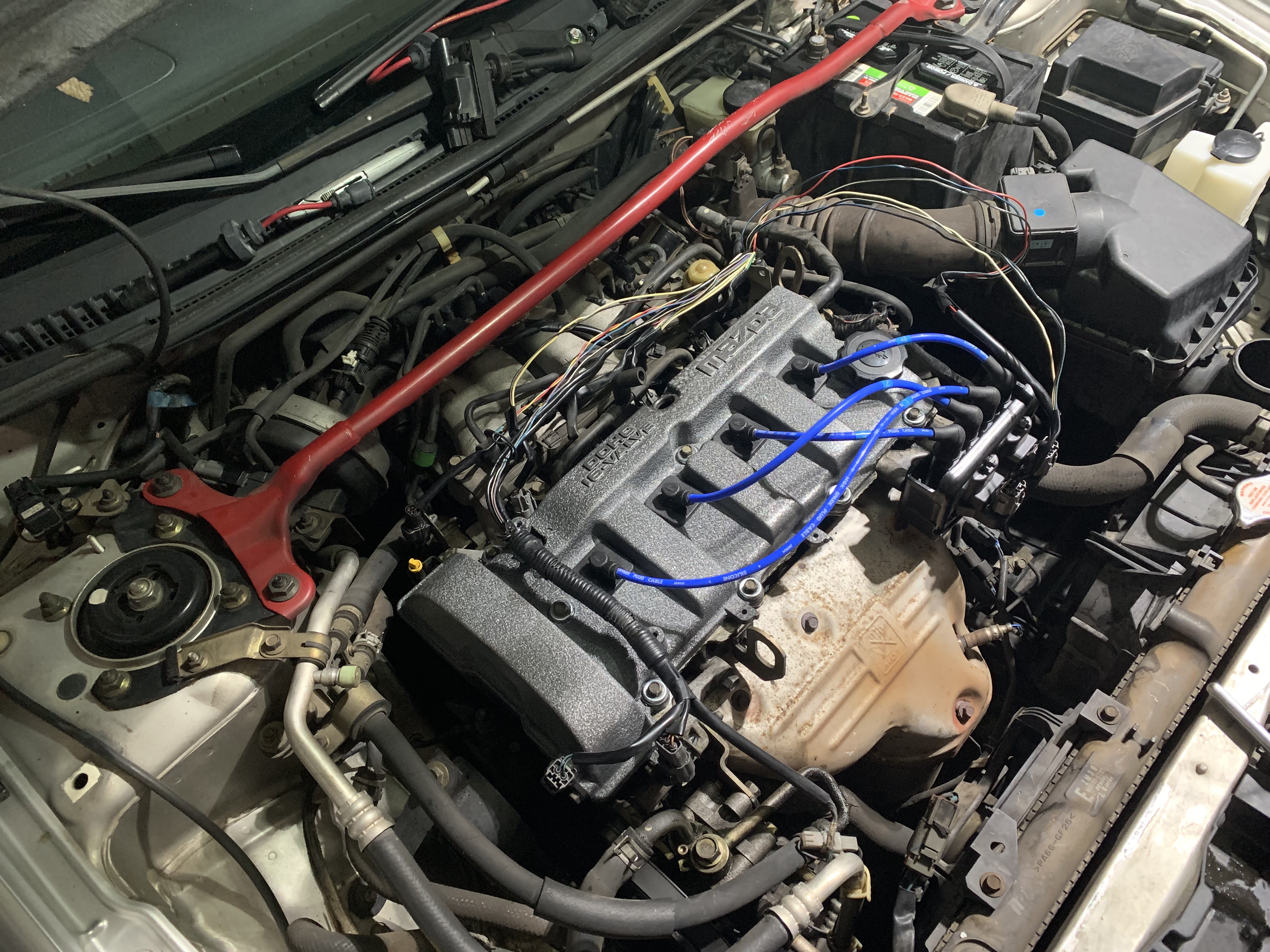 Pretty simple modification, which has no proven performance gain, but it simplifies things and removes all the clutter on the valve cover.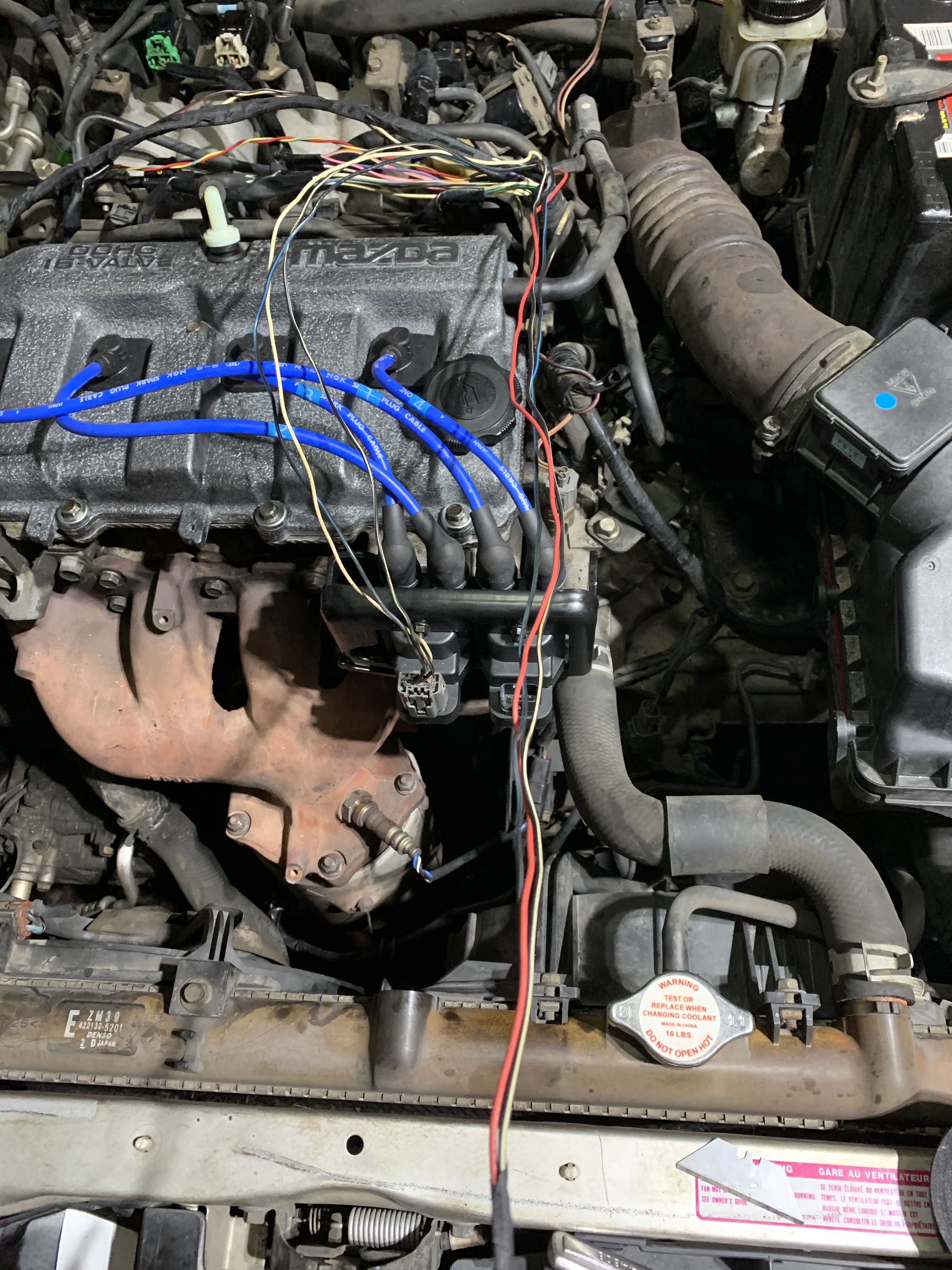 Once its all done, I wrapped up the wire in harness fabric tape.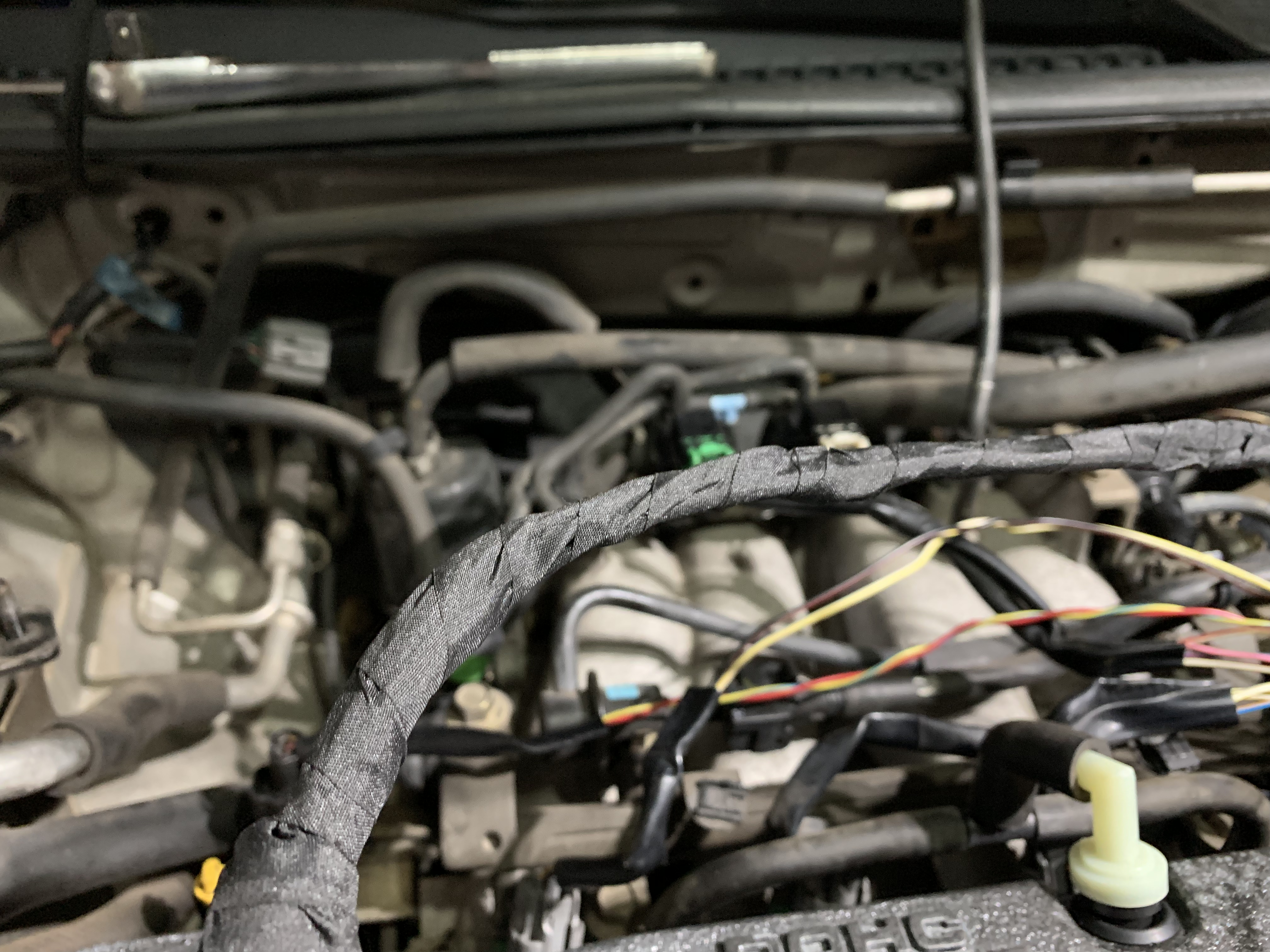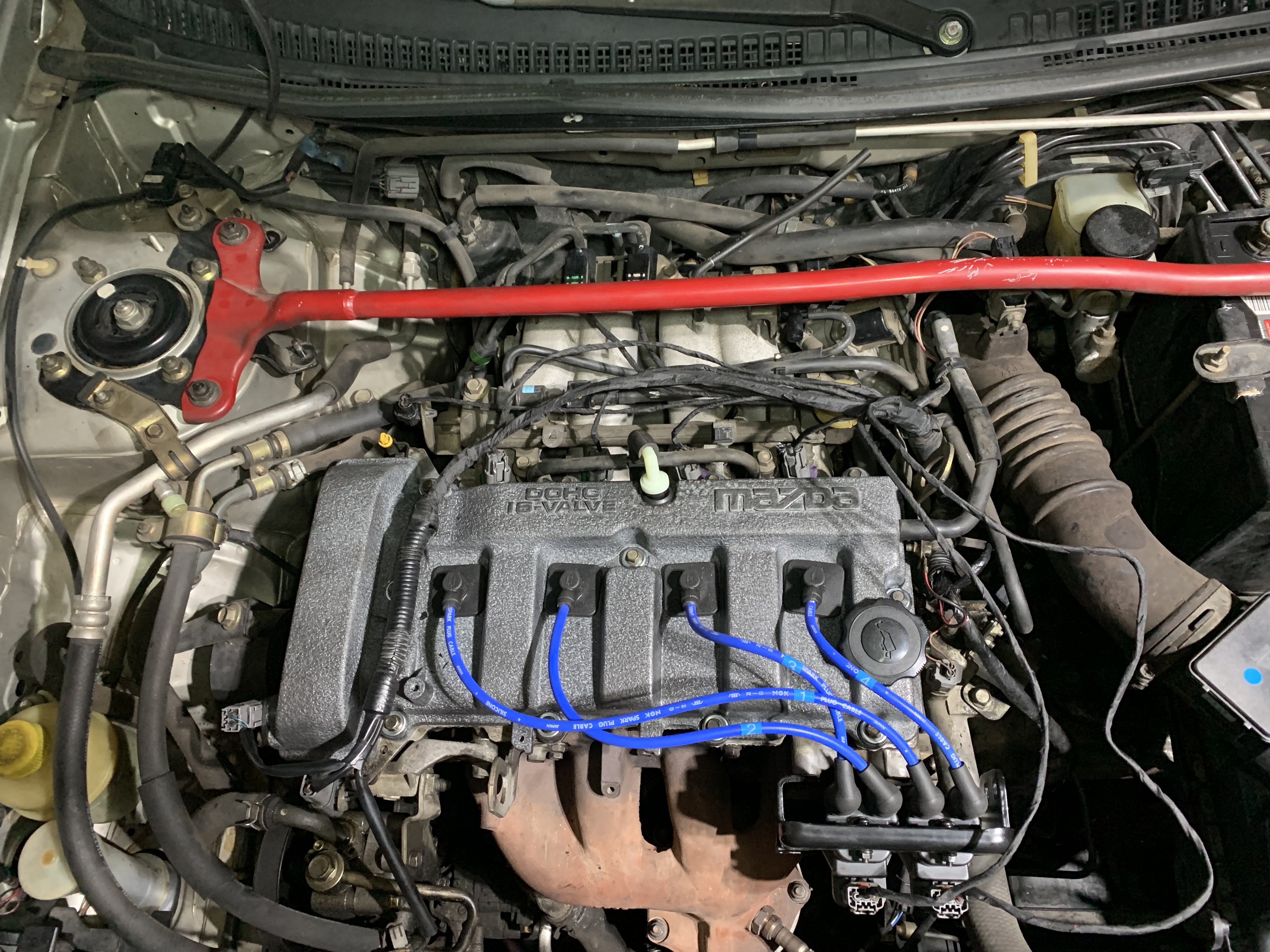 The only thing is the extra long coil wire on the right, but that will be handled later. Total this cost $94 and Valve cover Gasket with parts from Rockauto.
2002 Mazda Protege 5: $1200.00
Mazda 6 brake upgrade: $90
Coil pack conversion and valve cover gasket: $94
Total: $1384
After getting those things taken care of, I felt better about driving the car on the street and really see how the car drove on the road. Next we get on to the wheels / tires and suspension..
Thanks for reading! Comments, suggestions, recommendations are welcome in the comment section or via email.