You may have heard a bought another weird machine from another state. Well, last week I made the 2600 mile trip to go get it. The trip itself was thread deserving and I may post that up after I get done going through all the pictures.
For now, on with the show.
The item in question is a 1970 Easyrider. From the other thread about this...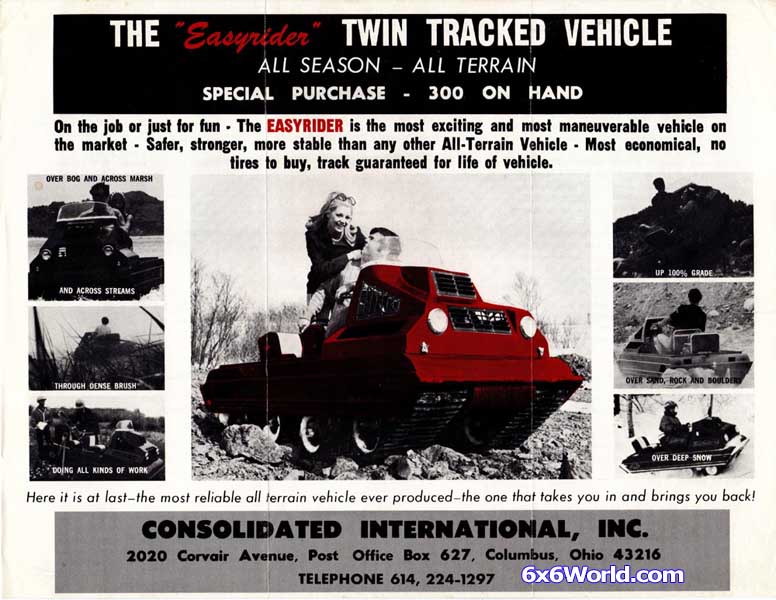 What my pile of machinery looks like.
It is really an interesting machine. The throttle is controlled by a thumb lever like many ATVs. Steering is handled by the bars, but what the handle bars do is surprisingly complicated. If you turn left, it disengages the left track through a clutch disk and pressure plate. It also applies a disk brake that is formed into the clutch plate. So, up front you have two clutches with disk brakes on them. One for each track. There is also an additional disk brake that is used to actually stop the machine. It is controlled by a brake lever on the bars. The reason it didn't want to turn in the video posted in the other thread is one of the clutches is out of adjustment.
Power is provided by a 2 cylinder, 2 stroke, 399cc, 25+-hp, Kohler. It was running when my friend picked it up. He said it was a stone-cold bitch to start and sure enough it is. I haven't figured out the trick yet. It has very weak spark. I did pull the flywheel and go through the points and stator wiring but that didn't help any. I can't even get it to fire on ether. I have done is some studying and some research. The engine is not original to the machine, it is out of an Arctic Cat snowmobile. They came with a Sachs 300cc from the factory. There are exactly zero new parts available for the Kohler. Since I really don't like 2 strokes, there is a good chance it will go away and be replaced with a v twin 4 stroke in the 22-25 hp range. If I go that route, I will have to source a CVT drive pulley that will fit the new engine and still work with the driven pulley on the transmission. The existing pulley is a taper fit and most 4 stroke engine use straight keyed shafts. Looks like a new engine and pulley could be fairly expensive. $$$$.
Power from the engine is run through a large belt-driven CVT clutch into a transmission of some description. According to the lever the transmission has 2 forward speeds, neutral, and reverse.
My biggest worry about buying this was the tracks. They are 50+ years old and are showing their age. It looks like the tracks are made out of 12" wide conveyor belt. I can order that from Grainger and I'm smart enough to figure out how to attach them if needed. If you look in the bottom picture you can see the joint where the belt was lapped and vulcanized.
The center guides that keep the tracks on the bogies are just bolted through the belt.
So, for now I'm at the stage of figuring out how deep to get into this thing. Part of me wants to get it running asap and abuse it. Part of me wants to fix it right. I'm still undecided so far and I have a boat to finish first. Don't be surprised if you don't see any updates on this in the near future.
Till next time...