Turning the Master Bedroom into a shop! This is my shop build thread.
I'm at a time where there's no one to bitch about anything I feel like doing to my house. Sooooo, since I like having lots of room to work and mess with car stuff I'm doing a little "remodeling". LOL The house is a ranch with the master bedroom next to the garage so I decided to create a shop out of the master bedroom that will open into the garage and move myself into one of the other bedrooms. For a car guy that enjoys having a nice well lit work area this is going to be awesome!
Not much money for this so, I've gotta be very creative. I've been planning this for a bit and been collecting things to work with. I've told everyone I know here, (new in town) that I'm building a shop and anything that's usefull they see getting thrown out or whatever to please let me know.
1st up is a heavy duty metal work table with a thick top and Formica surface, it was Free. Just had to pick it up and assemble it. Neighbors work place was tossing it last year.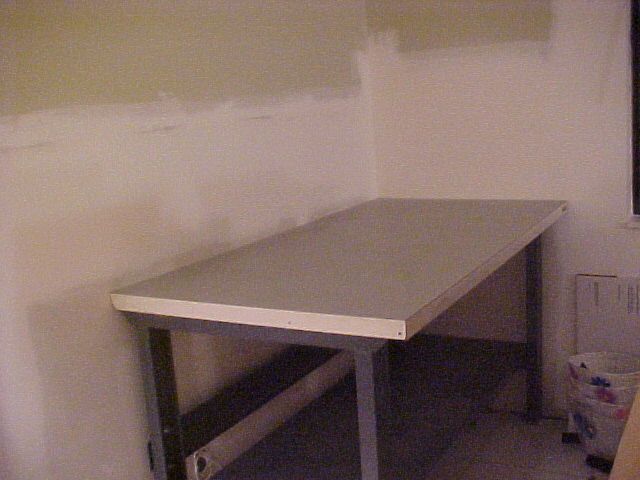 I wanted a large work table I can spread things out on if I'm doing interiors or other projects that need a lot of work space. A friend had some random non-matching kitchen cabinets that came from a store display that he'd gotten for free. He also had several pieces of plywood with veneer on them from someone who'd been remodeling a big yacht at the marina where he kept his boat. He wanted it all out of the way. So FREE for me! SCORE!
I painted the cabinets with some deck paint so they'd all be the same color and coated the plywood with polyurethane after some fitting, sanding etc. Looks like maybe Mahogeny and Walnut or Oak? In any case it's much nicer plywood than I would have bought and will make a great work table! Accessories later on...