A few weeks ago, a gentleman named Mario, who I frequently race with at Pineview Run and handles the rules and classing for Pineview's Challenge Cup time trial series, asked me if I would want to come up and turn a few laps for a day for free to help him with tire testing and data acquisition. Mario loves testing and data acquisition, and was looking to make some changes to Challenge Cup classing to level the playing field a little. The catch: I wouldn't be driving Barbatos, my 250whp supercharged Miata. Oh no, I'd be driving Chuck.
Enter Chuck. Its a 2010 Toyota Yaris 3-door hatch with a 5-speed manual that I picked up this spring. It has 135k miles on it and is pretty original underneath. That means stock springs, struts that don't look like they've ever been replaced, original bushings, unknown brake pads and shoes and an alignment that I haven't checked. The only mods are a TRD rear sway bar and a set of 15x7 Advanti Storms with 205/50R15 Continental ExtremeContactSport. I bought the car to be a fun DD and occasionally autocross if the weather was bad, but never have, so I'd never driven the car in anger.
So, I loaded up my jack, tire spray and electric impact gun and made the hour drive to Pineview and got there at 10:30. They were having a Challenge Cup event that morning, but it was supposed to be done at 11:15, so I figured I'd show up, catch the last couple minutes, and BS with some people. Well, there was a bit of a pall hanging over the track that morning. An Audi TT had had an off and was pretty badly damaged, then an LS-swapped Hyundai Genesis destroyed the rear differential and had to be towed off, and the track transponders were weirdly going to sleep randomly, so there was a bit of a delay before we got down to business.
The plan was to leave the Continental on, I would go turn a few laps, then Mario would turn some laps. Then we would swap over to some TR Motorsports 15x7s shod in Toyo RRs. We had hoped to also test Bridgestone RE71Rs, but couldn't find anyone to lend us a set in Yaris sizing. The goal was to see if B-Spec cars like Fits and Yaris and Mazda2s could be competitive in C4 (the lowest Challenge Cup class, it is calculated by weight divided by HP divided by a point value assigned to different tire types) or if they needed an allotment for better tires to get them in the fight. We had both a track transponder on it and an AIM Solo to make sure we got lap times.
So, first out was on the 340tw Continentals. My Miata typically turns 1:17s on this track, although it has the potential to be into the 1:15s or 1:16s, if not faster, so my guess for the Yaris was 1:25s. I went out and was thoroughly enjoying myself on track, as its a bit like driving a stock Miata. It's a bit roly-poly and slow but happy, like a puppy. Despite bing unknown pads and shoes on tiny rotors and drums, the brakes never really seemed to fade either. The tires had plenty of grip, although there was a lot of squealing going on underneath. The only major downsides were the lack of an LSD (come out of a few corners and I could feel the inner tire wheelhopping like made) and a serious buzzkill traction control. I'd come barreling into the first turn, a big downhill 180, and go to get on the throttle hard halfway through the corner and the TCS light would flash accusingly, it'd start beeping at me and then cut the throttle for a solid second or more.
My first lap out was a 1:25, about what I expected, but as I glanced at the AIMSolo out of the corner of my eye, I glanced a 1:23, then another 1:23, then a 1:22 and another 1:23. I didn't want to flog my DD to death, so I came in and began spraying down the tires and radiator and told Mario about the 1:22, which we confirmed with track timing. Both of us were pretty elated, as it was much better than what we expected and only about a second off the frontrunners in C4. He jumped in and went out and turned some laps but could only get a 1:25 out of it.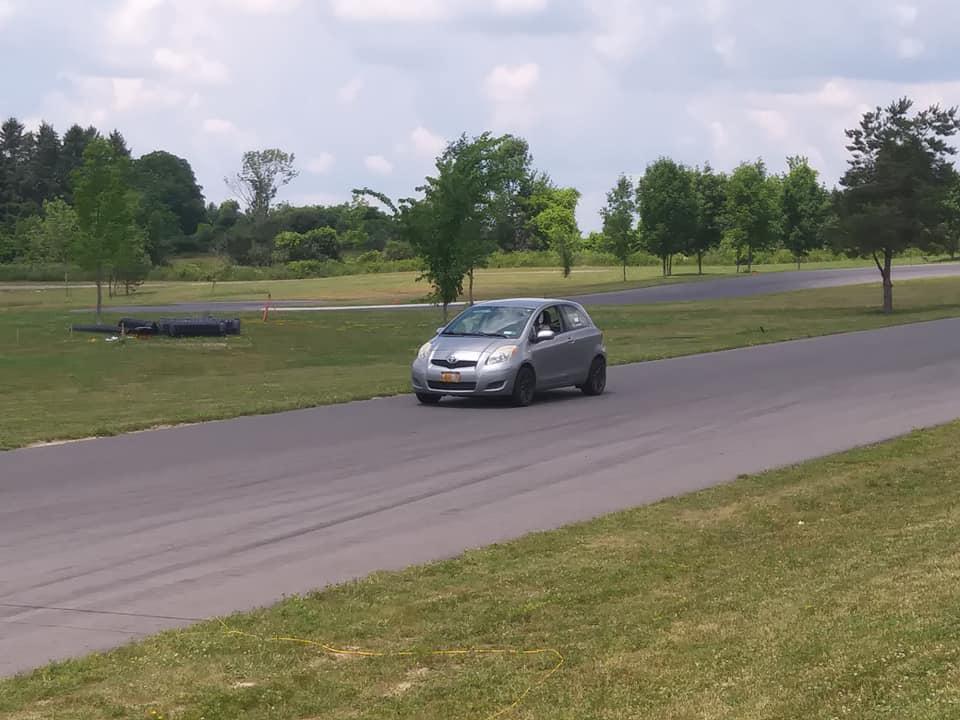 With visions of 1:20s in our head, we jacked the car up and swapped on a set of well-loved 40tw Toyo RRs on TRM wheels.
I went out first with them and they felt pretty grippy, although I was still getting some wheelspin if I tried too hard out of the corner. First lap was a 1:26, followed by a 1:25, then another 1:25, then another 1:25, then another 1:25. What? How? I would make up a few tenths of a second here and there, but no indication that it was even going to match that 1:22, let alone beat it. Defeated I pulled in, and started spraying the tires. Mario was a little baffled at it going slower, so he went out and got a 1:24 for his effort.
So at the end of the day, we were really left scratching our heads. I went fast on the Contis, then slowed down on the Toyos. He went slower on the Contis and faster on the Toyos, but still not as fast as my best on the Contis.
A round of bench-racing ensued with everyone present and we really just couldn't come up with a solid answer. Did the extra grip cause too much rolling resistance for the engine? Were the Toyos heat-cycled to death? There was doubts about that, because they had done a similar test on a Miata a week or two earlier with that very set of Toyos and they outran the Contis then. Was the traction control just not letting us take full advantage of the Toyo's grip? It was baffling. We hope to get a few more types of tires together and try it again in the near future.