My first daily after I moved to L.A. was a five-hundred-buck 74 Maverick. I cleaned the maple syrup out of the carb and drove it for 3 years.
My second daily in L.A. was a 62 Caddy SDV. $1500 and 532k on the clock. It burned as much oil as it did gas, and the springs were cut so low that I couldn't do a three-point turn without high-centering the frame on the crown in the street's pavement. I once had to call AAA to tow me one foot to get unstuck on Sepulveda Blvd as I blocked half the traffic for 40 minutes. I lost this car in a bet in Vegas. Drove there with my buddy in a pink rabbit costume (weed was involved) and bet him that he couldn't win $1500 to buy it from me. He did. In the rabbit costume. Walked into the Golden Nugget to the Roulette table, he put $20 on black 8, hit, pulled it all back to ride on black, hit again, and cashed in $1625.
Then I got super smart and bought this Step Van. In L.A. every city block retains a parking spot for commercial loading/unloading. I used to drive this thing to auditions and calls the night before, park in a commercial spot, sleep in the back, and be there bright and early. I would take it to the bar at night because no cop would assume a commercial delivery van would have someone in it that just drank 2 beers. It was so rusty that I could use strategic holes in the back of the box to see how close I was to something behind me when I was backing up.
Bought this 66 Bonneville in 1996 for $300 and I still have it. I put 6x heads on it, an Edelbrock intake, and a homebuilt modified Qjet with a plywood spacer, and the next day I drove it from PA to FL with my girlfriend sitting beside me on the bench seat. For a long time it had a Caddy 500 in it. It currently has a 14 bolt full-floater and 3/4 ton spindles to match up front. Getting a Duramax swap soon.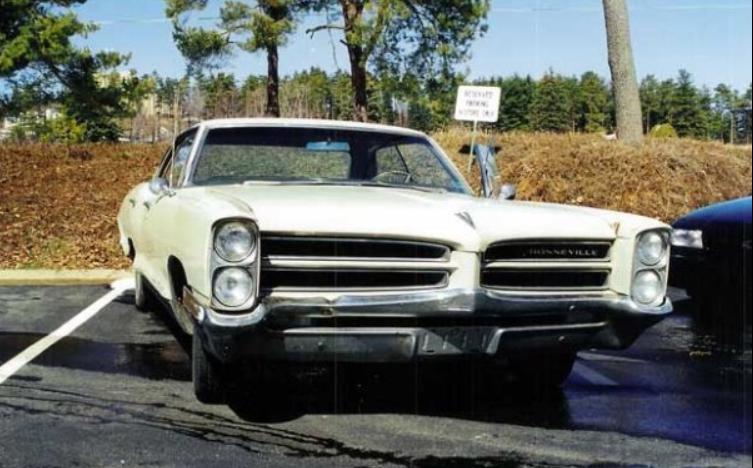 Snagged this 82 Baja SunSport with motor stringers so badly rotted they had grass growing out of them. Stripped it bare, dropped in a Vortec, rebuilt the outdrive, and had a 60 mph luxo cruiser. Sold it to my buddy in 2013 and he just gave it back to me.