Welcome to the (un)official GRM - Gran Turismo 6 racing League - Series 2.
Starts: 4/23
STANDINGS
Sunday Driver STANDINGS

This is a championship series based on the cars and spirit of the Grassroots Motorsports (and what is available in GT6). Although highly competitive the main focus of the racing is fun clean racing. Because of this, rough driving is highly discouraged.
This league will consist of 10 races run weekly, and 2 classes.

All drivers drive the exact same car (determined as outlined below)
Car choice for each week determined by pick order based on previous series total points order (see below).
A rolling pot is used to buy cars. Each week 100,000 CR is added to the pot. The car choice cannot exceed that weeks pot (which will always be a minimum of 100,000 CR)
ANY car available from the Online Garage is eligable (no CR limit)
No car modification allowed (room will be set to no modifications)
Oil changes and engine rebuilds are allowed.
The only adjustment allowed is brake bias
Tires are as delivered new from dealership.
Race length set the number of laps raced in 5-6 min. Two races will be run, second race is Reverse Grid.
.
Max 600pp
Power Limiter setting must be 90% or above (may be lower with HC)
All tuning allowed
No Nitrous allowed
RH Tires (HC tire is SS)
Car must be a race version of a car (no modded street cars or tuner cars) that is a production based vehicle (no Rocket Cars, Chaparrals, prototypes, etc) that seats two or more people and has a roof (no KTM, Aeros, etc).
Must keep the same car once chosen (except as noted below)
A car choice change may be made at mid-season if desired.
A car choice change may be made before the second race (buyers remorse)
Duplicate Car Rule: Duplicate cars are allowed, but they must be visually differentiated by color and number (if applicable)
Race length set the number of laps raced in 10-12 min
.

There is also a special, separately tracked series run on Sundays BEFORE the two above series, using the same track. This series also has two races:
Spec BRZ/86GT/FR-S
Car MUST be: Subaru 12' BRZ - Toyota 12' 86GT - Scion 12 FR-S
413pp max (oil change allowed)
SH Tires (CS HC tires)
Paint and brake bias adjustable
NO other modification allowed (room will be set to No Modifications)
Spec Miata
The only car Model allowed is a Miata/MX5 (any series)
425pp
SS Tires
Race length set the number of laps raced in 7-8 min. Two races will be run, second race is Reverse Grid.
All tuning allowed.
Use of Race Suspension (at least as a starting point) is highly recommended.
(suggestion, not required): Use of early Miata allowed repainting to show stripes
Track and SSS Car Selection: Track choice and SSS car for each week are determined by participants. Pick order is determined by order of total points from the previous season. Car choice for SSS must be worth 100,000 CR or less. Any non-kart non-dirt/gravel/snow track is allowed.
Track selection must include all Time and Weather settings (where applicable).
Using smaller variation of same track for SSS (e.g. Silverstone) is allowed.
Track selection is required to be at least 2 weeks prior to the start of the race.
Car selection must be declared by the Sunday before the race.
Current Pot: (week 3) 165,700 Cr
Week 1 - Spoolpigeon - 268 - (34,300) 165,000 Cr
Week 2 - TheDerve - 267 - (85,000) 180,000 Cr
Week 3 - Allaircooled - 197 (112,000) 168,000 Cr
Week 4 - dean1484 - 191 - (125,000) 143,000 Cr
Week 5 - retrohoon - 143 - (50,000) 193,000 Cr
Week 6 - Avettey - 134 - (27,300) 165,000 Cr
Week 7 - plaidcladmadman - 134 (120,000) 145,000 Cr
Week 8 - gt5anth - 129 - (220,000) 245,000 Cr
Week 9 - ARR-Argo1 - 117 (100,000) 125,000 Cr
Week 10 - MMM_Sauce (matman) - 51
Handicapping:
To help equalize cars and/or drivers, cars will be handicapped based on finish position. Handicapping is detailed below.
Handicapping is yet to be determined and depends on the series.
SSS: 1st and 2nd place will incur a HC of one step down in tire (e.g. SM to SH) for the next race.
GT500: 1st and 2nd place will incur a HC of 20PP for the next race.
HC levels will be tracked on the Standing board above.
Points:
1st - 16 points
2nd - 14 points
3rd - 12 points
4th - 11 points
5th - 10 points
6th - 9 points
7th - 8 points
8th - 7 points
9th - 6 points
10th - 5 points
11th - 4 points
12th - 3 points
13th - 2 points

14th - 1 points

Two extra points for the biggest shunt victim. Voted by participants if needed.
Points for the championship will consist of your 9 highest scores (you will drop your lowest scoring race). With this, missing a race won't eliminate your chances.
First tie breaker is total 1st place finishes. Second tie breaker is ROC/Challenge race.
Starting and Restarts
In an effort to combat glitching, when a race is started, all participants will exit into the pits before the count down counter reaches 10 seconds. This will not affect qualifying order. Please note your starting position in the event of a restart.
If major glitching or a large series of collisions (CF) occur at the start or within a few turns of the start anyone witnessing a significant enough of an event should type RESTART in the message window and a restart will be initiated. In the event of a restart:
All participants will exit the track
Once everyone has left the track and instructed to, re-enter the track
Line up on the track in the original starting order (as best can be re-created) with special emphasis on the top 3 cars.
Wait for the race countdown and do not change your order.
Rolling start: The lead qualifying will be responsible for pacing the pack at 80 mph to a designated point (probably the last turn before a back straight) at which point the race starts (in the case of a restart, the starting point will be much closer to the start line).
There is NO passing until that point, and previous to the start point cars will attempt to get into the original start order. If another major glitching incident occurs with the re-start, the glitching car will be asked to start at the back an stay clear of cars for the first few turns. Ultimately a glitching car may be asked to leave, which will be avoided if at all possible.
Rules: (Repeated violations / complaints will result in a DQ.)
Qualifying: A 10-15 min qualifying session will be held before each race. A one lap "reset race" will be run before the first race qualifying to clear/reset the qualifying times.

You must start the race on the tires that you qualify on. (The Spool rule)

All driving aids are off (TCS, Driving line, etc), except ABS

Damage is set to Low, draft to High, edge setting is Real, penalty is set to Off.

Racing etiquette applies (e.g. it is the responsibility of the overtaking driver to ensure a clean pass). Keep the racing clean.

Passing Consideration: No passing under braking. Make certain you have a clear position on a car (beside the car) BEFORE a corner if you plan to pass in a corner. In such a case both cars are required to provide driving room in the corner (punting rule does apply). See below for examples.

Braking consideration. In order to avoid rear-ending others during braking, please either take a different line from the car you are following or fade brake as shown below: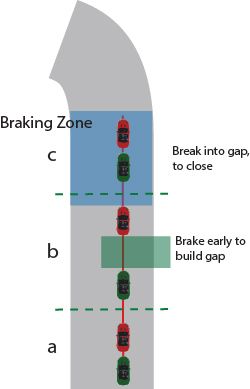 Corner Cutting: Maintain two wheels on the track (not curbs) at all times. Cutting is allowed to avoid hitting other cars (do not improve your position)

Punting Courtesy Rule: The following driver is responsible for not making contact with the car in front. If you push someone else off of the track you are required to wait for them to return to the track and allow them to stay in front of you for at least one turn. This rule also applies if you force someone into a cut if they have a clear reasonable position beside you.

Track Re-Entry: If you do run off the track, re-enter the track by merging into the track, parallel to the track. Give way to faster traffic. Avoid crossing the track or driving slower in the racing line when possible.

One Move Rule: When being followed by another car, you are allowed one move that is out of the normal racing line per section (straight / turn) of the track. E.g. if someone is drafting up behind you, you can cut to the inside to take that line, but cannot then cut back to the outside. Swerving to avoid the draft is not allowed (although you can still make the one move).
Registration:
If you would like to compete in 1 or more classes, you will need to have AllAirCooled (ARR-Argo1 and Spoolpigeon are alternates) (PSN IDs) as a friend to enter the room. Send me a PM, or post in this thread listing:
PSN ID
GRM ID
Desired Class(es) and car choice (if applicable)
Drop ins are also generally welcome. If you are not planning on actively competing is the series, please avoid hindering any of the active drivers.
Schedule:
All races are held in Private Lounges. In order to enter the room you will need to find another participant in your fiend list( preferably Dean, Argo or Allaircooled) and click on the yellow icon next to the lounge coffee cup icon to enter the room.
Races scheduled to be held on Wednesday evenings. Each class race would run sequentially. At 8PM Central Time (9ET, 6PT) we will run a one lap "reset race" to zero out the qualifying times. Qualifying for the first race will start immediately after the reset race with the race starting at approximately 15 after (depending on participant arrival). The second class will start qualifying at aprox. 8:45 - 9:00PM Central Time, with the race starting at approx. 9:00 - 9:15PM Central Time.
Event schedule:
Results color coding: Blue = Pole Position, Green = Fast Lap, Purple = Shunt Award (blue/green is pole and fast lap)
4/16 - GT6 Series Testing -

4/23 - Round 1 2001 (US) S2000 at Madrid [3,4/7 laps]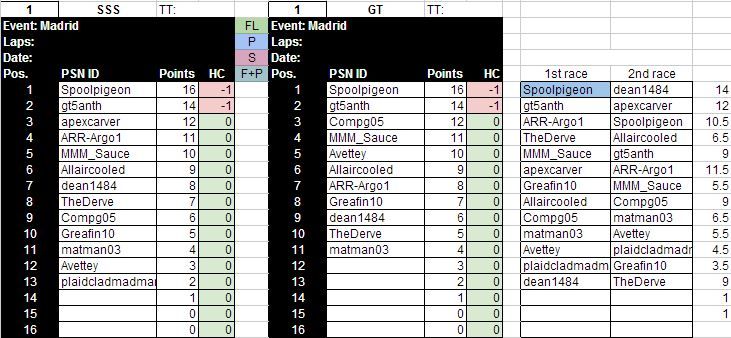 4/30 - Round 2 KTM XBow Street - Willow Springs [5,6/9 laps]
5/7 - Round 3 RUF BTR (SM tires) - Twin Ring Motegi East Course [5-6/9 laps]

5/14 - Round 4 Suzuki GSX-R/4 - Nurburgring GP/D [3(4)/7 laps]

5/21 - Round 5 TOM'S Chaser at Special Stage Route 5 [x/x laps]
5/28 - Mid Series Break: Testing for next season: Cape Ring North - Classic Sports Cars and Muscle Cars See 2nd post below for car requirement details.

6/4 - Round 6 Honda Integra Type-R (DC5) '04 at Rome Reverse [3(4) / 10 laps]
6/11 - Round 7 BMW M4 Coupé at Brands Hatch [3(4)/8 laps]

6/18 - Round 8 SRT Challenger SRT8 Touring Car at Mount Panorama [x/x laps] SSS Race Time = 14:30 (Reverse grid = 13:00) - Time Progression = 60 - GT Race Time = 11:00
6/25 - Round 9 Light Car Company Rocket (SM tires) - Autumn Ring Reverse [4(5)/8 laps]


7/2 - Round 10 (MMM_Sauce - 125,000cr) - Tokyo Route 246 [x/x laps]

7/9 - Challenge/Practice:
.