There's nothing more exciting than reading the latest issues about your favorite sports cars. We put it all in one place, so you never have to leave.
In The November 2019 issue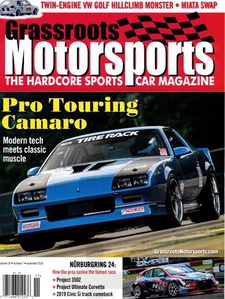 Pro Touring Camaro
Modern tech meets classic muscle
Featured articles
Muscle Masterpiece | Detroit Speed uses its Pro Touring expertise to recreate an '80s icon.
Porsche Taycan | A Turbo in name only.
Double Take | Back for another look: Volkswagen Motorsport's twin-engined Golf.
Back to School | We revisit the Skip Barber Racing School as it returns to its former glory.
Classic Cool: Nissan 300ZX | Now might be the time to buy: twin turbos, timeless looks and 300 horsepower.
Easy Replacement for More Miata Displacement | Building a top-of-the-charts, 2.5-liter Miata in less than 24 hours.
Project 350Z | Part 8: (Finally) upgrading the suspension for LS Fest.
Project Ultimate Corvette | Part 10: Slowing our roll with Wilwood brakes.
Project Cars